[Baseball club] Wins the Meiji Jingu Baseball Tournament for the first time in six years and the seventh time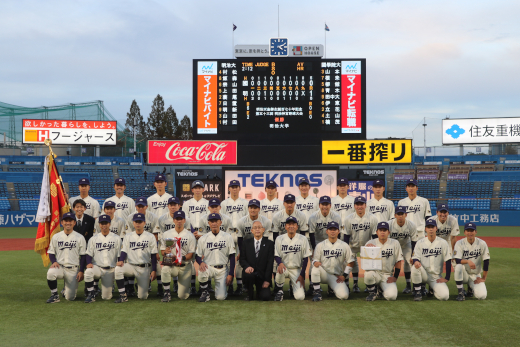 Winning the championships for the seventh time, a record number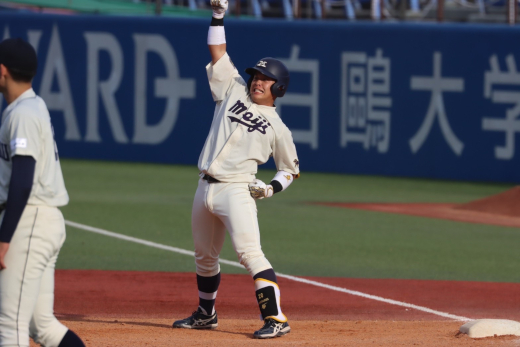 Minoo with a timely hit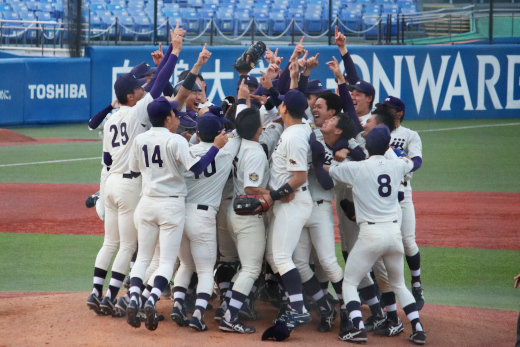 The moment the team won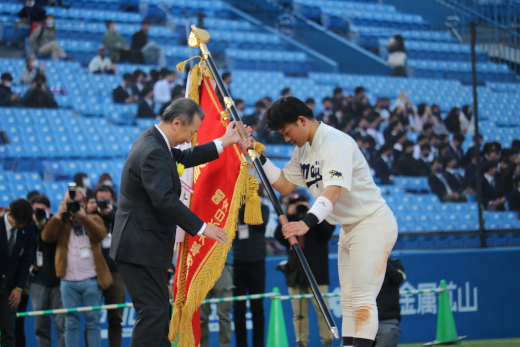 Captain Muramatsu receiving the winning flag

(All photos courtesy of the Meiji University Baseball Club)
The baseball club that played as a Tokyo Big 6 Baseball League champion won the 53rd Meiji Jingu Baseball Tournament (held from November 18), for the first time in six years and the seventh time, the most in history.
Meiji University beat Kansai University 2-1 and Meijo University 5-1 to advance to the final. The final game, which was postponed one day due to rain and held on the 24th, was a tough pitching duel with Kokugakuin University, the representative of the Tohto University Baseball League. In the bottom of the 3rd inning, a timely hit by Kaito Minoo (4th year in the School of Arts and Letters) scored a run. The team held on to the one run margin, winning 1-0.
In the post-game interview, manager Takehiro Tanaka said, "It started with the fact that the fall league was irregular and long, and all the universities (we played against) were great teams. We knew it was going to be a heart-stopping match against Kokugakuin, but it was a great feeling to win," he recalled. He added, "I am glad that we were able to make an additional update to the record of six championships that our great seniors built. Please praise the players," he smiled.
The captain, Kaito Muramatsu (4th year in the School of Information and Communication), was pleased that he "was able to pass down the title of No. 1 in Japan to the lower grade team members." He added, "I am not usually a character to say such things, but I will say this," and then shouted with joy, "This is the best!" which resulted in thunderous applause from the spectators.