Meiji University Lifetime Achievement Award presented to Wakaba Higuchi (4th year in the School of Commerce)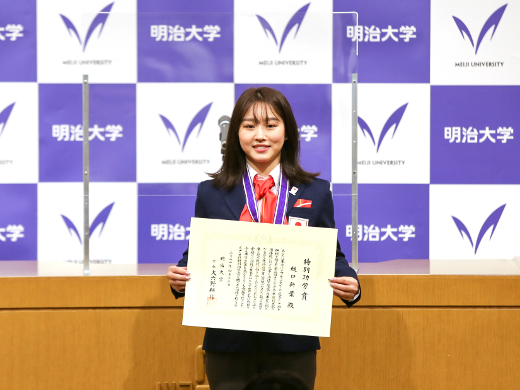 Higuchi holding her certificate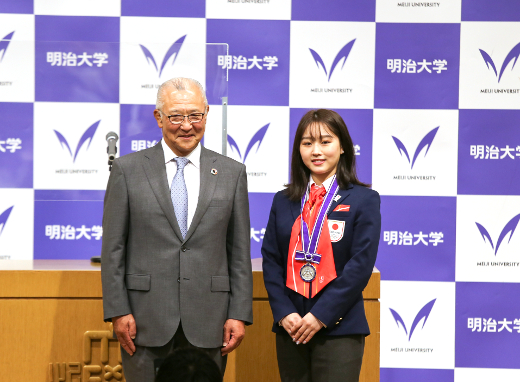 She was presented with the certificate and medal by President Dairokuno at the presentation ceremony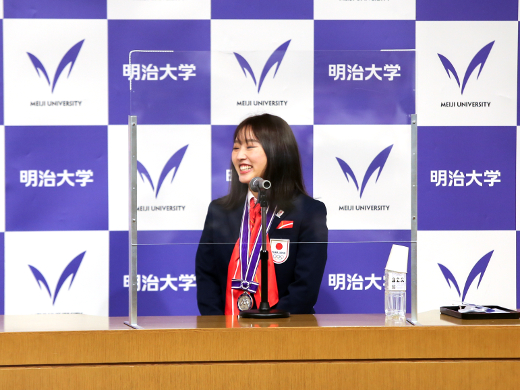 Higuchi smiling during her talk for students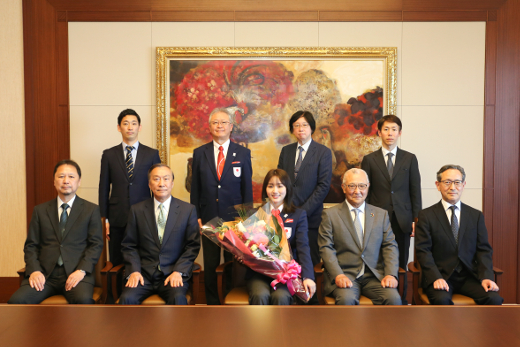 Courtesy call to the Chairman, Board of Trustees and the President by a group from the skating club including Hidehito Ito, Manager of the figure skating section of the skating club (back row, second from left)


On April 22, Meiji University presented the Meiji University Lifetime Achievement Award to skating club member Wakaba Higuchi (4th year in the School of Commerce).

Higuchi helped the Japanese team event to take third place (provisional) for the first time in history and win a medal at the 2022 Beijing Winter Olympics. In addition, during the same Games she became the fifth skater in Olympic history to successfully perform a triple axel in the women's singles, winning fifth place (provisional). Meiji University presented her with the Lifetime Achievement Award in recognition of her outstanding achievements in sport, winning top prizes at national and international competitions, as well as her contribution to enhancing the university's reputation.

On the day of the award, a presentation ceremony was held at Surugadai Campus Liberty Tower, where President Kosaku Dairokuno presented Higuchi with a certificate and a commemorative medal. "I am very happy to have been able to take part in the Beijing Winter Olympics and finish third in the team event, and to receive such a prestigious award," Higuchi said. She went on to express her gratitude as well as her joy, saying "I intend to work hard at my studies together with you all, aspiring to succeed both in academics and in sports. Thank you very much."

Following the presentation ceremony, a talk for students of Meiji University was held at the same venue, with Mayumi Takeyama, an alumna and freelance announcer, acting as interviewer. Higuchi, who appeared nervous at the presentation ceremony, smiled from time to time as she reflected on her performance at the Beijing Winter Olympics and recounted episodes from her life as a student. At the end of the event, she told the Meiji University students, "During your time as students, I hope that you will be involved with a variety of people and make someone to talk with and give you advice. I think these experiences will go on to be valid in other settings." This advice was received with a big round of applause from the audience.

Before and after the presentation ceremony, people connected with the skating club who were accompanying Higuchi to the university paid some courtesy calls. Hidehito Ito, Head of the Japanese Olympic delegation at the Beijing Olympics and Manager of the figure skating section of the skating club (graduated from the School of Political Science and Economics in 1984); Kunihiko Ushiyama, General Manager of the skating club (Professor in the School of Political Science and Economics); and the rest of the delegation met and talked with Takashi Yanagiya, Chairman, Board of Trustees; President Dairokuno; and Masaru Kitano, Chairman, Alumni Association.

Meiji University Lifetime Achievement Award
The award is presented to individuals and organizations selected from among students, faculty members, alumni (alumni and alumnae) at Meiji University, who have made outstanding achievements in the fields of academic, culture, sports, etc., and who are recognized as having contributed to the promotion and development of education and research at Meiji University. This award has been presented to You Aku, Senichi Hoshino and Takeshi Kitano. Higuchi is the 37th recipient.