[Graduate School of Science and Technology, Architecture and Urbanism Program] Conducted a joint international workshop in Bangkok with five ASEAN regional partner schools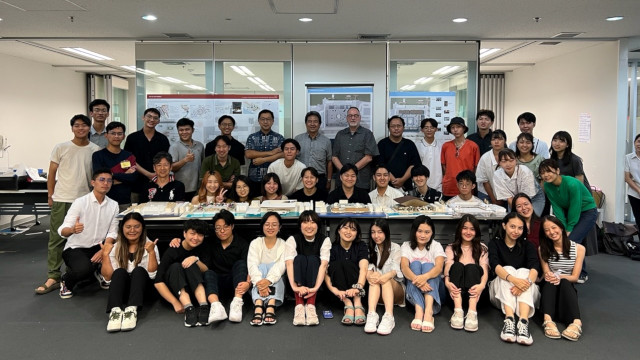 Group photo after the final review meeting
The Architecture and Urbanism Program of the Graduate School of Science and Technology, in collaboration with Chulalongkorn University and with the participation of students from four partner schools, held a joint international workshop from July 31 to August 6 at the Meiji University ASEAN Center in Bangkok. This is an international practical education program under the title of Advanced Design Studio D (formerly Design Studio C), a design practice course of the Architecture and Urbanism Program. Since 2016, when Meiji University's project was selected for the Inter-University Exchange Project (Re-Inventing Japan Project), we have conducted a dispatch and regional exchange program, a joint program with these partner schools, as a part of the Project. However, this joint program was suspended owing to COVID-19. After holding a workshop with Chulalongkorn University in Bangkok for the first time in three years, taking an opportunity offered by the easing of international travel restrictions last year, we planned to hold one with a more international perspective, which led to this joint international workshop.
There were a total of 32 participants in the joint international workshop held at the ASEAN Center in Bangkok, including 12 students and three teachers from Meiji University, 12 students and one teacher from Chulalongkorn University, and two students from each of the four partner schools (National University of Singapore, University of Architecture Ho Chi Minh City, Royal University of Arts, Institute of Technology of Cambodia) in the ASEAN region. The students were divided into six mixed groups and focused on the area around Tha Tian Market, the oldest market in Bangkok, which is located in the center of the Old City surrounded by the Royal Palace and Wat Pho. After reading up on the historical context of the area through field surveys, they worked on creating architectural proposals to utilize cultural and artistic resources for the revitalization of the riverside area. At the final review meeting on the last day of the workshop, after presenting proposals, there was a lively exchange of opinions with guest speakers. The seven days of collaboration in English in mixed groups allowed the students to learn a lot and deepen their interaction.
By continuing the development of the relationship with the partner schools in the ASEAN region, which was established through the Inter-University Exchange Project for five years, we were able to hold the joint international workshop attended by a total of 32 students from six schools in five countries. The fact that we could hold this workshop of such scale and content can be said to be the result of the Architecture and Urbanism Program's continuous efforts for internationalization, mainly in the International Program in Architecture and Urban Design (I-AUD). In addition, the effectiveness of the multilateral educational exchange program, in which students from multiple schools with different backgrounds come together to share space and time face-to-face and collaborate, was felt to be significant, and this workshop was a very meaningful program.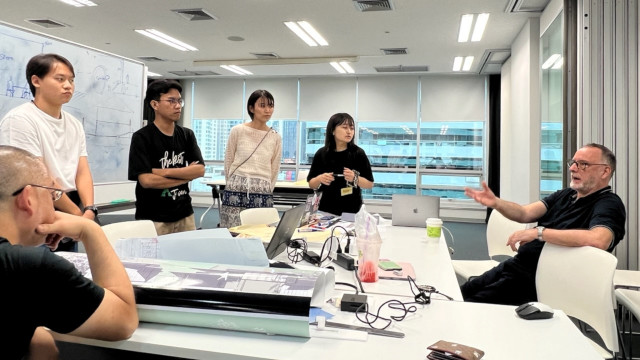 The workshop at the Meiji University ASEAN Center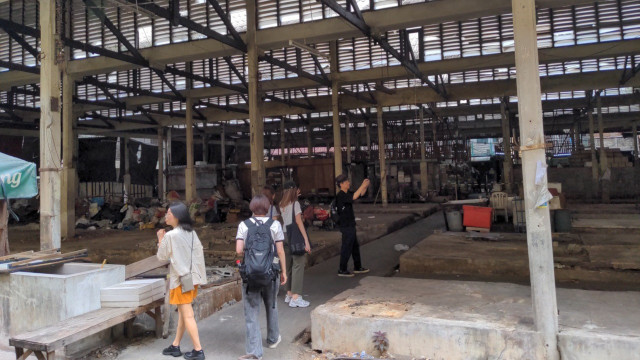 View of Tha Tian MarketView of Tha Tian Market
≪
Japanese version
≫