Jun Mizutani takes gold in the Tokyo 2020 Olympics table tennis mixed doubles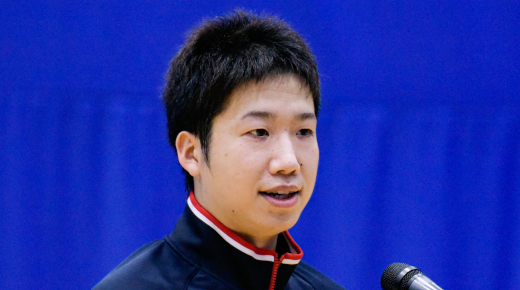 Mizutani taking part in the "Dream Game" alumni exchange match
Jun Mizutani (graduated from the School of Political Science and Economics in 2013), who competed in the table tennis mixed doubles at the Tokyo 2020 Olympics, has won the gold medal.

Mizutani played in the table tennis mixed doubles, a new event at these Games, together with Mima Ito. Mizutani and Ito, who vanquished Austria 4-1 in the first match, faced Germany in the quarter-final. In the final game of the match, which stretched to seven games, they came back from six points down at 1-7 to win 16-14 in a dramatic reversal.
They were in charge throughout the semi-final game against Taiwan, which took place at 9 p.m. on the same day as the quarter-finals. Their 4-1 win ensured them at least a silver medal.

The pair faced China in the final. Mizutani and Ito conceded the first two games to China, but went on to win games three, four, and five. They also won the seventh and final game 11-6, obtaining Japan's first ever gold medal in table tennis.