[Rugby Football Club] Meiji beat Waseda at the Kanto intercollegiate rugby tournament to finish 2nd and advances to the University Championships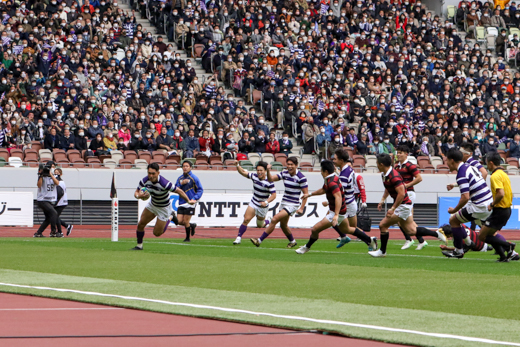 Takaya Saito scores the first try (2nd minute of the first half)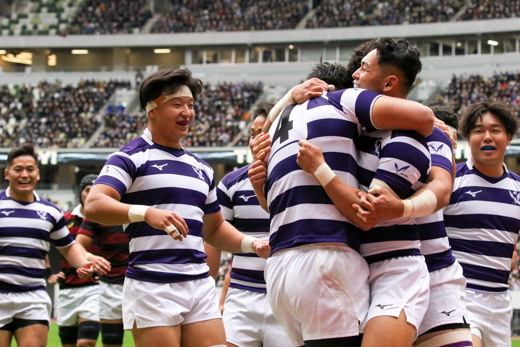 The Meiji ruggers rejoicing in victory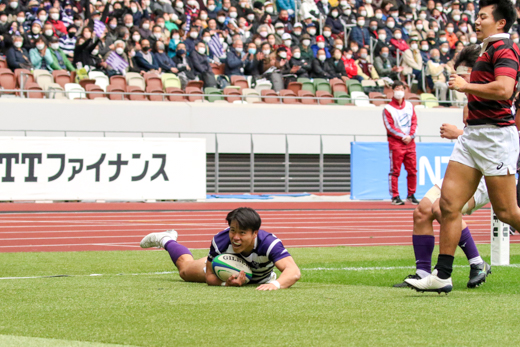 Try by Kippei Ishida (9th minute of the first half)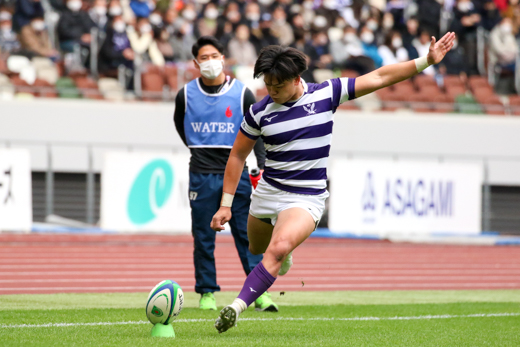 Yuya Hirose converted all tries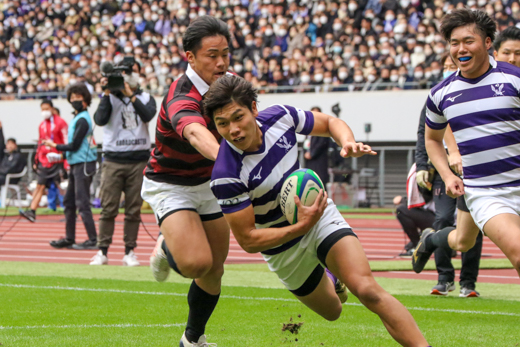 Try by Kouhei Yasuda (25th minute of the first half)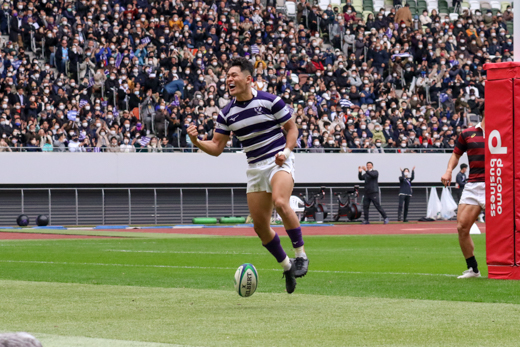 Takaya Saito celebrates his second try of the day (3rd minute of the second half)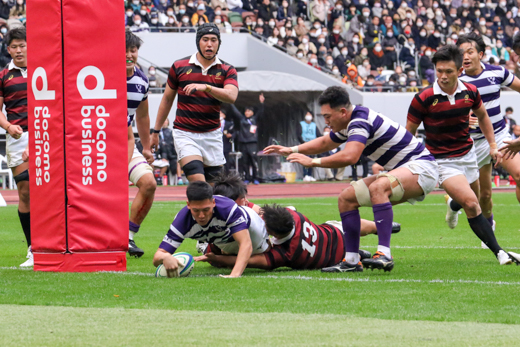 Try by Shotaro Ikedo (34th minute of the second half)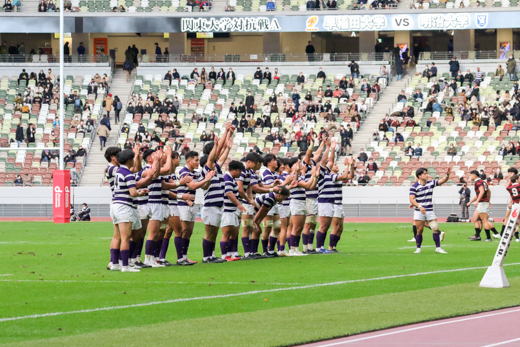 The team greeting the crowd after the match
Meiji University Rugby Football Club won its Group A match against Waseda University in the Kanto intercollegiate rugby tournament held at the National Stadium on December 4.
Meiji took the lead in the first half with a try by vice captain Takaya Saito (4th in the School of Arts and Letters) in the 2nd minute, followed by tries by captain Kippei Ishida (4th in the School of Arts and Letters) in the 9th minute and Kohei Yasuda (2nd in the School of Commerce) in the 25th minute, which made the score 21-14.
In the second half, Saito and Shotaro Ikedo (3rd year in the School of Political Science and Economics) scored tries in the 3rd and 34th minutes, respectively, as the team continued to withstand the onslaught from Waseda University. Yuya Hirose (3rd in the School of Commerce) kicked truly to convert all tries, and the score was 35-21 at full time.
Saito, who was named Player of the Match for his outstanding play during the match, said while smiling in the post-match interview, "We took a step forward toward to fulfilling our dreams of becoming the number one team in Japan. Now I am relieved to have won the match."
Coach Hiroyuki Kamitori also expressed his gratitude, saying, "I would like to thank everyone involved, our fans, and our opponent, Waseda University, for allowing us to play in front of such a large number of spectators at the National Stadium." Ishida expressed his enthusiasm, saying, "We have issues to work on, so we will devote ourselves to the next university championship."
Meiji University finished 2nd in the intercollegiate tournament and will participate in the 59th All-Japan University Rugby Football Championships. The first match will be played on Sunday, December 25 at Chichibunomiya Rugby Ground. Please give your enthusiastic support to the rugby team.
≪Japanese version≫