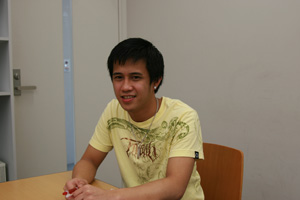 Manila, Republic of the Philippines
Department of Law, School of Law
Q. Why did you choose Japan and Meiji University?
I was familiar with Japan from childhood as my parents had worked in Japan. I came to Japan about five years ago, and started studying Japanese at a language school. I found it interesting to study Japanese and hoped to get to know more about Japan. As I got used to living in Japan, I noticed that Japanese people act in a very orderly manner. They abide by laws and rules very diligently. This is how I came to be interested in Japanese law.
There are several reasons why I chose Meiji University. First, my impression of Meiji University was that it is strong in the study of law. At the time I was deciding the university was highly regarded by teachers at my language school. Also, another attractive point of Meiji University is that I can take other schools' classes besides the classes of the school to which I belong, helping me to acquire wide knowledge at university. Professors of the university are enthusiastic about teaching, and classmates are pleasant and have a great desire to learn. I enjoy the campus life very much.

Q. What surprised you about life in Japan? Did you find anything good about Japan?
I was shocked when I saw a man talking with a mobile phone one day. He seemed to be apologizing for something on the phone. Surprisingly, he bowed repeatedly even though the actual person he was apologizing to wasn't there! This incident shows how polite Japanese people are. When it comes to transportation in Japan, it is highly developed and it is very convenient to go anywhere.

Q. What are your plans for the future?
I wish to be involved in foreign trade or negotiations between countries using knowledge of law. I am interested in the global gap between the supply and demand for food. I am thinking about working for an international organization to work on this kind of issue. To realize my goal, I'm considering going on to graduate school.

Q. Message to prospective students of Meiji University
Meiji University is kind and helpful to foreign students. There are staff called Teaching Assistants who assist foreign students, including paperwork in Japanese. It's very helpful for me.