[Meiji University Law in Japan Program 2014 Starts]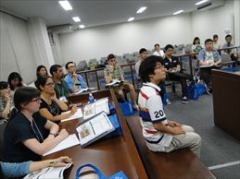 A lecture held in a moot court classroom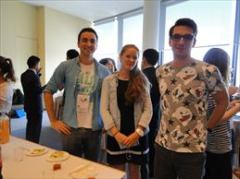 Smiling faces of participants at the welcome lunch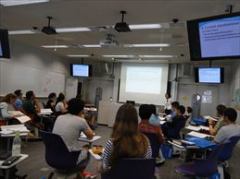 Participants listening earnestly to a lecture
Meiji University Law in Japan Program, a short-term summer program offering lessons on the Japanese law and legal system in English, started on July 28.
The program is provided largely for overseas students and the final objective is to provide students with an overall understanding of Japanese law and legal system through lessons in English and field trips to legal offices and courts, etc. The School of Law has implemented the program every summer since 2009 and this year marks the 6th year of the program.
This year 21 students and adults from a variety of countries and regions around the world are taking the course, including the United Kingdom, Germany, France, Italy, the United States, Canada, China, Brazil, India, Indonesia, Singapore, Taiwan and Mongolia. Three students from Meiji University School of Law are also participating, making a total of 24 students taking the course.
Lessons cover contemporary issues in various legal fields, including the Constitution, criminal proceedings, civil law, family law, corporate law, competition law, tax law, labor law, information law, intellectual property law and international law.
By also studying the development of the judiciary system and the system for legal professionals in Japan, the course offers a curriculum that gives the participants understanding of the characteristics of modern Japanese law and legal system in social, cultural and historical contexts.
In order to meet the needs of participants with a variety of interests and different backgrounds, lessons will be provided in an interactive style, with regular Q&A sessions included.
From the first day of the course the participants have been active during lessons, asking questions and making comments.
For the field trips, visits to regional courts, public prosecutors' offices, prisons, the National Diet (The Legislative Bureau of the House of Representatives), corporate legal divisions and legal offices are planned with the aim of developing the knowledge acquired during lessons in a more specific and meaningful way.
Starting this year, a total of 15 third-year and fourth-year students from Meiji University School of Law will act as program assistants, providing support for the implementation of the program. The program assistants are expected to support and interact with the overseas participants.
At the Welcome Lunch held at the 23rd floor of Liberty Tower during lunch-break on the first day of the program, the participants, teachers and program assistants enjoyed chatting to one another in a lively atmosphere.
The program will be held over a 10-day period until August 8.