[Successful Conclusion to Meiji University Law in Japan Program 2014]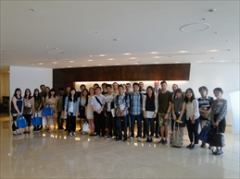 Field trip to the Law Firm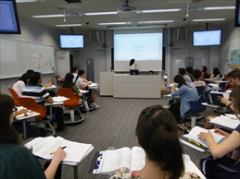 Many opinions were actively given during the lectures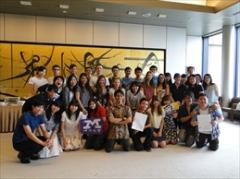 Smiling faces at the farewell party
Meiji University Law in Japan Program 2014 ended on August 8. The program was a short-term summer program in which participants took lessons on Japanese law and legal systems in English.

This year's program saw 21 students and adults from a variety of countries and regions take the course, including the United Kingdom, Germany, France, Italy, the United States, Canada, China, Brazil, India, Indonesia, Singapore, Taiwan and Mongolia. In addition, three students from Meiji University School of Law took part, taking the total number of participants to 24.
Lessons covered the Constitution, criminal proceedings, civil law, family law, corporate law, competition law, tax law, labor law, information law, intellectual property law and international law, as well as the development of Japan's judiciary system and system of legal professionals.
Lessons included regular Q&A sessions and the participants were extremely active in asking questions and making comments. Many of the questions and comments compared Japanese laws and legal systems to those of the participants' home countries, and the ultimate objective of providing the participants with an outline understanding of Japanese laws and legal system was achieved by and large.


Field trips were taken to regional courts, public prosecutors' offices, prisons, the National Diet (The Legislative Bureau of the House of Representatives), corporate legal divisions and lawyers' offices with the aim of developing the knowledge acquired during lessons in a more specific and meaningful way.

Lectures and Q&A sessions were provided by staff at the various field trip locations with the aim of increasing the participants' understanding of Japanese law in the context of practical workplaces, including the judiciary, legislature, and administrative and corporate workplaces.
The participants were particularly interested in and satisfied by a field trip to the regional courts - after sitting in on some of the cases they asked a series of enthusiastic questions about the operation of Japanese criminal and civil courts and the Japanese jury system.

On the final day, a ceremony was held to award certificates of completion. A farewell party was also hosted at which the participants, teachers and program assistants enjoyed sharing their experiences and opinions of the program.


The School of Law plans to hold the Meiji University Law in Japan Program once again in the summer of 2015.