Law in Japan Program 2016 Held, a Short-term Program to Learn about Japanese Law and Legal Systems in English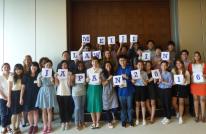 Program participants'group photo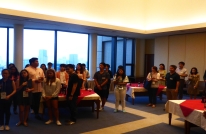 Welcome party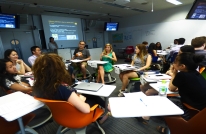 Group discussion in the International Law lecture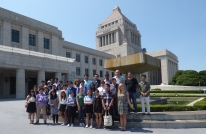 Field trip to the National Diet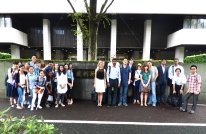 Field trip to Tokyo District Court
The Meiji University School of Law held the Meiji University Law in Japan Program, a short-term summer course for foreign students to learn about Japanese law and legal systems in English, from July 27 to August 9.
This year's program, the eighth of its kind, had a record 24 participants from 14 countries (Australia, Brazil, China, Philippines, France, Germany, India, Indonesia, Italy, Nepal, Poland, Sri Lanka, Switzerland, and the USA). Participation from Asian countries has been on the rise and the program welcomed students from the Philippines, Sri Lanka, and Nepal for the first time. Participation by working adults such as lawyers and other legal professionals from various countries has also been on the rise in recent years.
This program comprised lectures and field trips aimed at giving participants, even those with no legal knowledge, an understanding of the outline of Japanese laws and legal systems. The lectures covered a wide range of fields including the constitution, judicial system, criminal law, civil law, family law, intellectual property law, tax law, international law, competition law, labor law, system of legal professionals, law and IT, and law and business. Field trips were taken to a law firm, corporate legal department, court, prosecutors' office, National Diet, and penal institution, among other places, where students added substantially to the knowledge gained during classes and deepened their understanding of Japanese laws and legal systems.
This year, as a new initiative, participants from the Meiji University School of Law were given two credits as a regular subject. Four first to fourth year School of Law students deepened their understanding of Japanese law by learning about Japanese laws anew from a foreign perspective.
On the final day, a ceremony to award certificates of completion and a farewell party were held. Participants, program teachers, and School of Law students who supported the program enjoyed sharing their experiences and outcomes of the two-week program as they bid each other farewell.
The School of Law will increase the number of programs it holds in FY2017 and plans to hold the Meiji University Law in Japan Program welcoming new participants in the summer.
>
Meiji University Law in Japan Program