Aug. 03, 2017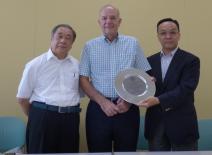 Professor Masato Ninomiya, Principal Tucci from the University of Sao Paulo School of Law, and Dean Satoru Aono from the Meiji University School of Law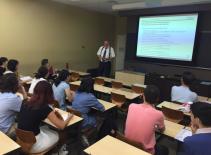 The labor law class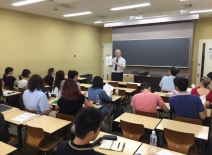 The competition law class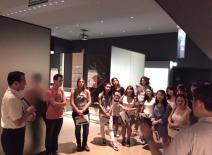 The tour of inspection at Meiji University Museum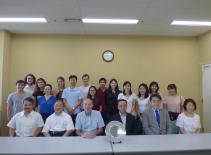 Group photo
Meiji University School of Law implemented the "Law in Japan Program (a short-term course) for University of Sao Paulo 2017" from July 18 to July 25 for students in the Bachelor's, Master's and Doctorate programs at the School of Law, University of Sao Paulo in Brazil, and an international partner institution of the School's exchange program.

Sixteen students came to Japan from the University of Sao Paulo under the leadership of Meiji University Special Advisor to the President, Masato Ninomiya (professor at the School of Law, University of Sao Paulo).

On July 19 the students from the University of Sao Paulo experienced the classes and facilities of Meiji University at the Surugadai Campus.

During the morning they took classes in English about the labor law (School of Law Professor Heinrich Menkhaus) and competition law (Meiji University Professor Emeritus Iwakazu Takahashi) of Japan.

After the classes, students from Meiji University joined them, and all of the students had lunch together and deepened their exchanges in the Sky Lounge Akatsuki, a cafeteria on the 17th floor of Liberty Tower.

In the afternoon, they visited the Meiji University Museum and listened to commentary by the curator while going on a tour of inspection of historical documents about pre-modern criminal justice. After that, they visited the Tokyo District Public Prosecutors Office, heard a lecture about prosecution work from a currently-practicing public prosecutor, and went on an inspection tour of the Ministry of Justice Museum.

On July 25, the final day, José Rogério Cruz e Tucci, Principal of the School of Law, University of Sao Paulo, came to visit and held a discussion with School of Law Dean Satoru Aono, School of Law Curriculum Coordinator Hidetomo Sasaki, and School of Law Associate Professor Teruhisa Komuro. Furthermore, School of Law Principal Tucci gave School of Law Dean Aono and the faculty staff in charge of the program accepting students a letter of thanks for implementing the program and a commemorative plate.

In March 2015 the School of Law, Graduate School of Law, and Law School concluded a Memorandum of Understanding with the School of Law, University of Sao Paulo regarding implementation of a student exchange program. Since then we have been implementing a short-term program for students from the School of Law, University of Sao Paulo in summer every year. Furthermore, we are sending School of Law faculty teaching staff to give lectures at the commemorative ceremony for the 195th anniversary of the founding of the School of Law, University of Sao Paulo, which is to be held in Sao Paulo in August this year. Going forward we will continue strengthening relations between the two universities and encouraging academic and student exchanges.