Law in Japan Program 2019 Held -52 people from 19 countries and regions participated-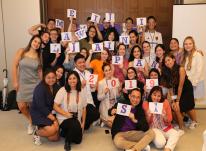 Group picture taken during the farewell Party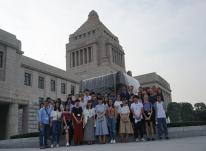 Field trip to the Diet Building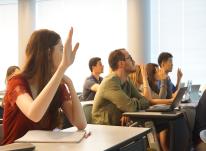 Participants in the lecture class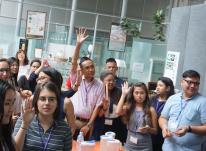 Welcome party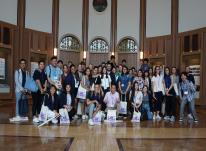 Group picture taken during campus tour
Meiji University School of Law held Session 1 of its "Law in Japan Program", a short-term summer study program for overseas students to study the Japanese legal system, from July 1 to 12. Session 2 was held from July 29 to August 9. This year was the eleventh year.

Applicants must be aged 18 and older, and enrolled in universities or graduate schools overseas. Graduates are also accepted. No prior knowledge of law is required. In response to the growing number of applicants, the program has, since 2017, been held twice annually. This year's 52 participants came from 19 countries and regions, and included students at universities with which Meiji's School of Law has inter-department collaboration agreements, such as De La Salle University's College of Law in the Philippines, Nanjing Normal University in China, the University of São Paulo in Brazil and University of Augsburg in Germany as well as universities in Indonesia, Hong Kong, Sweden, Finland, Russia, Italy, Portugal, France, Austria, Switzerland, the United States and Mexico.

The program consists of 21 hours of lectures and 10 hours of field trips. The participants studied Japan's constitution and the judicial system, as well as the Intellectual Property Law, International Law, Language and Law, among other subjects. On the field trips, they visited law firms, the Tokyo district public prosecutor's office, a prison, the Diet Building, and other sites. Both the lectures and the field trips helped the participants extend their knowledge on a broad range of fields and topics.

On the last day of the program, a ceremony was held at which each participant was presented with a certificate to mark their completion of the program. A farewell party was also held, with Meiji University law students who had taken part as supporters during the program, in addition to the participants and lecturers in charge of the classes. The party was a good opportunity for all to discuss their accomplishments and share their most memorable events during the 2-week program.