Twelve Law Students Participate in the University of Hawaii's Spring Law Program - Hawaii Law Study Tour Online 2021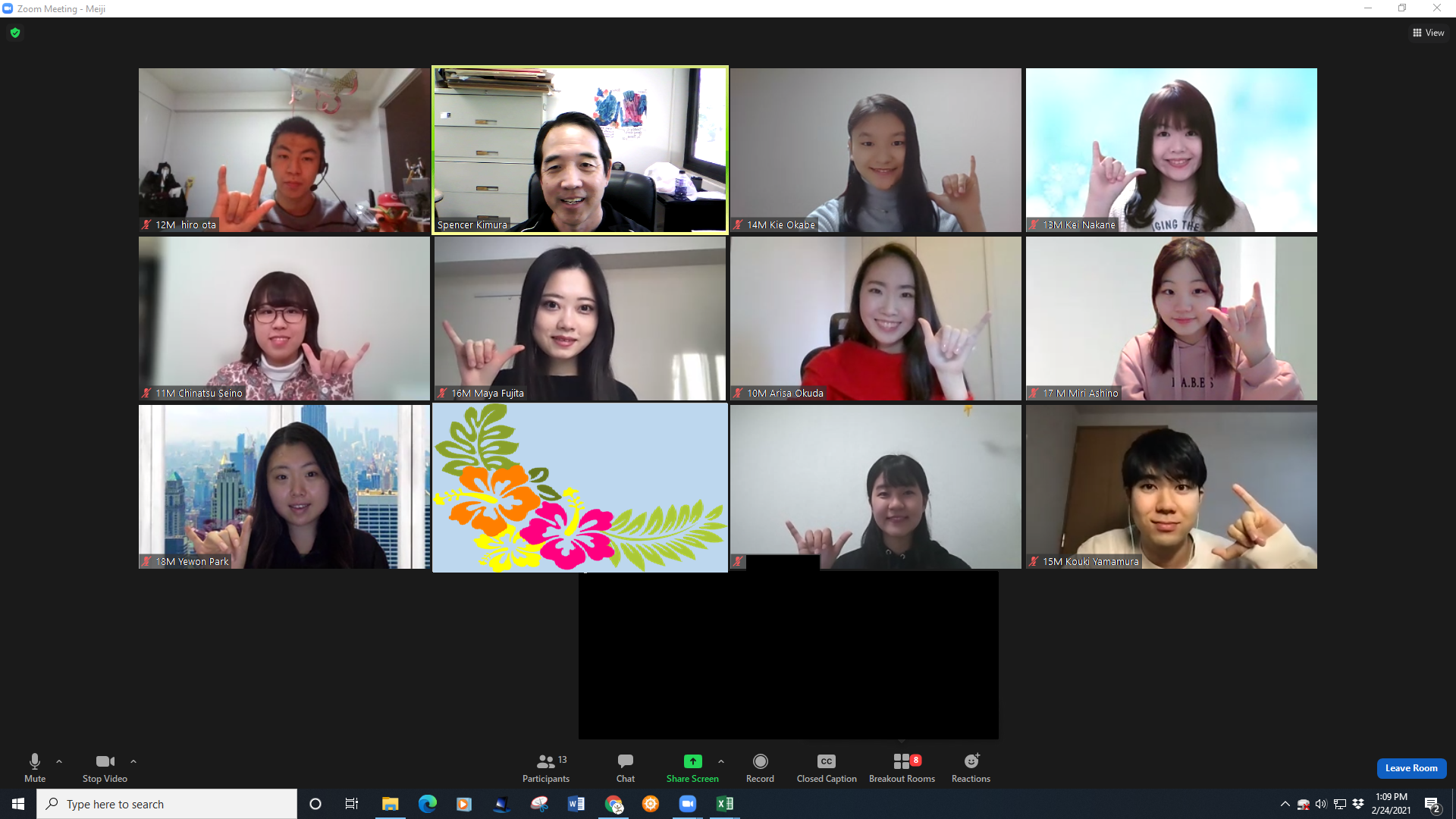 A group photo of the participating students with Director Spencer Kimura, University of Hawaii
Twelve law students from Meiji University's School of Law participated in the University of Hawaii's Spring Program, the Hawaii Law Study Tour Online 2021, held from February 22 to 26 by the University of Hawaii's William S. Richardson School of Law, a partner school of Meiji University at a school level.

The School of Law has sent 67 students up until now to participate in the University of Hawaii's Spring Program held every year since 2013, but due to the spread of COVID-19, the in-person program was cancelled, and this time, our students participated in an online version together with students from Ryukyu University and Waseda University.

Students deepened their knowledge of American and Hawaiian law, based on the themes of the constitution, criminal law, a comparison between Japanese and American law, environmental law, indigenous Hawaiian rights, the Act on Social Welfare for the Elderly, and human rights in Asia.

On the final day, a lecture was held on the subject of 'The Judicial System in the United States – On the Human Rights of Sexual Minorities (LGBTQ etc.)' by Sabrina Shizue McKenna, Justice of the Supreme Court of Hawaii. Justice McKenna, who resided in Japan until she graduated from senior high school, spoke about how she broadened her appeal in the American Lawyer's Association, and about the fight against discrimination in various areas within the Association, such as gender, race, disability, migration and sexuality (LGBTQ, etc.) based on her own experiences. The participating students actively asked questions, and there were many students who you could see were deeply impressed with Justice McKenna's talk.

One of the main characteristics of this program is that teachers from the participating universities join the students in the lectures and add an explanation in Japanese where necessary. This time an interpreter specially hired by the University of Hawaii gave explanations in simple Japanese for all the specialized law content that was thought to be difficult for students to understand in English, and various types of support were provided so that first year students who had not yet started studying law in earnest and students who were not confident in English could understand the lectures sufficiently.

Amongst the participating students, many had plans or wishes to study abroad to begin with, and after participating in this online program, it seems that their determination strengthened, with some students discovering a new goal to study at an American law school in the future.
Also, through discussions with students studying law at other universities, students were able to learn different ways of thinking and many were motivated by the students' active learning approach. It was a very fruitful week-long program.