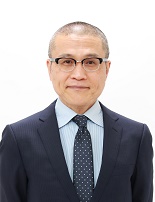 Makiro Tanaka
The Age of Global Japanese Studies

The Graduate School of Global Japanese Studies was newly instituted in 2012. Its mission is to develop truly internationally-minded people who have expertise related to Japan and can disseminate knowledge about it globally.
There have traditionally been two currents in Japanese studies, or in other words, academic learning about Japan. One is the current of Japanese scholarship by foreign nationals with a deep interest in the country. It began with the Christian missionaries who arrived on Japanese shores in the 16th century. From the modern period onwards, a steady stream of courses for Japanese studies were established in universities around the world. At present, these courses research everything from traditional Japanese culture to pop culture. The other current consists of the "kokugaku" studies that developed in the 18th and 19th centuries. These were dedicated to the pursuit of the essence of Japan by Japanese scholars. From the modern period onwards, they were handed down into studies of the Japanese language and the country's literature, history, etc. They continue to evolve on a high level to this day.
These two currents therefore present a dichotomy, one viewing Japan from the outside, and the other, from the inside. This orientation is in the midst of significant change in the present age, when there has been a substantial increase in the number of Japanese nationals active in other countries and foreign nationals active in Japan. Through globalization, this change is one where Japanese are being shaken by views of Japan from outside, and non-Japanese who have blended into Japanese society have become able to view it with insights gained from the inside. There can be no doubt that this momentous change will give birth to all sorts of profound ideas about the nature of Japan and how it should move into the future. As such, we are truly in the age of Japanese studies.
With major changes in the flow of people and increasing complexity in society. People who are interested in Japan are now looking at not only its culture but also its social system. Japan is currently facing serious social problems led by population aging and population decrease, as well as issues requiring approaches on a global scale, such as protection of the environment and acceptance of refugees. Each calls upon Japan to figure out what position it should take as viewed from an international perspective.
Against this backdrop, the Graduate School of Global Japanese Studies is devoted to research of Japan's culture and society. Its studies are grounded in both humanities and social sciences, and conducted from standpoints that are both international and interdisciplinary. It also researches regions of the world that have a relationship with Japan. Accepting many students from other countries, who then perform research jointly with Japanese students, yields more diverse outlooks on Japan and the world. Furthermore, the Graduate School actively disseminates information on the results of this research both inside and outside Japan. These activities unfold in six areas in the master's course (Pop Culture, Media/Society/International Relationship, Interculturalism and Intercultural Education, Japanese Linguistics/Japanese Language Education, English Language Education, and Culture/Philosophy) and four areas in the doctoral course (Pop Culture, Society/Information/International Relationship, Language/International Interaction and Culture/Philosophy).
In the case of Japanese Linguistics/Japanese Language Education, which is my area of specialization, we are engaged in the research of the history and structure of the Japanese language while considering the tradition of Japanese language studies as well as comparative analyses and examination of facets of contact with other languages, education in the Japanese language for both Japanese and non-Japanese, and identification of language problems hidden in social problems. In other research areas and fields as well, a variety of research is conducted with a broad perspective.  
 We earnestly hope that ambitious students will gather at our venue for Global Japanese Studies, which is brimming with youthful energy.

Dean, Graduate School of Global Japanese Studies
Dr.TANAKA Makiro ,
Professor of Philosophy