Experiences overseas during university days serve students in good stead not only in their academic work but even after they graduate. In keeping with its aspiration to develop human resources with international capabilities based on agriculture, the School of Agriculture recommends study in other countries based on the mutual accreditation system and participation in short-stay programs.

International Agricultural Cultural Understanding Program
This is an original School of Agriculture program for short stays in Thailand. It began in the 2013 academic year with the cooperation of related institutions in the country, including Kasetsart University, which has concluded a partnership agreement with Meiji University, as well as King Mongkut's Institute of Technology Ladkrabang, Srinakharinwirot University, and the Food and Agriculture Organization of the United Nations (FAO).
By participating in this program, students get a first-hand experience of climate, culture, history, language, and lifestyle differing from their Japanese counterparts. They also have opportunities for learning, experience, and interchange through various activities that could only be offered by the School of Agriculture, including on-site fieldwork programs (on the sites of overseas farms, markets, and factories), mock UN conferences at FAO Regional Office for Asia and the Pacific, workshops held with students of the interfaculty partner schools, and visits with School of Agriculture alumni active in the area.
Although the stay has a short duration of only about one week, the program is an intensive one engaging all five senses. By giving the students a close look at another country, it also prompts them to view Japan from the outside. It is likewise a golden opportunity for them to acquire knowledge about and observe agriculture from an international perspective. We strongly urge students to participate in it.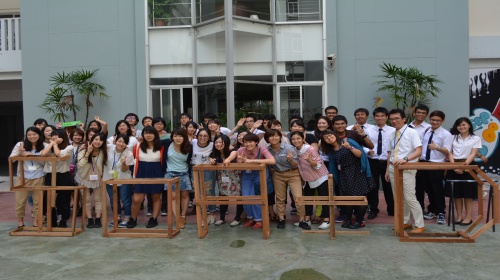 Exchange Student Program under School of Agriculture Interfaculty Partnership Agreements
Students of Meiji University can study at universities in other countries which have concluded partnership agreements permitting mutual accreditation of academic credits (in exchange programs). The study-abroad provisions based on interuniversity agreements recruit candidates from all schools, the School of Agriculture included. The School of Agriculture, however, also has its own interfaculty agreements allowing study abroad at the partner schools in programs that are open only to its students.
The partner schools in these interfaculty agreements are universities with a department or faculty of agriculture. Because the programs are directly linked to specialized study in the subject, they enable students not only to improve their language skills but also to encounter and absorb the world's most advanced research findings. It should be noted that courses in agricultural departments may possibly allow the exchange of more credits than in the case of the interuniversity agreement partners for completion. (Please check with the School of Agriculture Office in regard to the provisions for credit transfer.)
Study at a school covered by an interfaculty agreement therefore may hold advantages beyond study at one covered by an interuniversity agreement.
In the 2012 academic year, the School of Agriculture concluded an agreement for study abroad with mutual accreditation of academic credits with the University of Hawaii (US) and Kasetsart University (Thailand). In the 2013 academic year, it concluded a new agreement with Srinakharinwirot University (Thailand) to allow students to study there. Why not take advantage of these interfaculty partnership agreements to study agriculture at an overseas university?
Curricula for Development of Human Resources Who will be Active on the Global Stage
Besides preparing the programs noted above for long- and short-term study abroad, the School of Agriculture has made other arrangements to assist students aspiring to study in other countries.
● Establishment of classes to assist preparation for TOEIC and TOEFL exams
● Implementation of agricultural classes in English by instructors who are native English speakers
● Holding of a TOEFL institutional exam once a year, free of charge
● Establishment of courses concerning international agriculture
The School of Agriculture has therefore instituted courses designed to improve language skills and impart knowledge about international agriculture needed for study abroad. Through these courses, students can fully acquire the requisite knowledge and education as well as the proper mindset for overseas study.
International Exchange Program
The School of Agriculture does not merely send students to schools in other countries; it also actively accepts student from other countries. Besides accepting exchange students for half a year or one year from partner schools in interuniversity or interfaculty agreements, it accepts exchange students for shorter stays for the purpose of research only. Like other schools in Meiji University, it conducts entrance exams for students from other countries, and has registered many students who are foreign nationals and passed these exams.