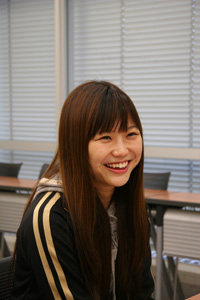 Shanghai, China
School of Information and Communication
Q. Why did you choose Japan and Meiji University?
I have liked Japanese behavior with good manners and polite attitudes since I first visited Japan when I was a child. Also, I became interested in Japanese fashion at that time. After I studied at Japanese language school for one year, I passed the entrance exam for foreign students of Meiji University. There are two main reasons why I chose Meiji University. First, it has produced many famous persons who play active roles in various fields. Next, I wanted to study Media Informatics in the School of Information and Communication to which I currently belong.
Q. How do you like studying at Meiji University?
Foreign students are required to take Japanese language classes, so you can keep learning Japanese after you enter the university. It is a good system because even though you have learned enough to speak Japanese, you may still need to study reading and writing Japanese. Thanks to the help of the staff at the School of Information and Communication office, I enjoy campus life and the worries that I had before coming to Japan have disappeared. I am taking part in Sundai Planning Society, one of the circles at Meiji University. I am planning a live fashion event for the university festival, lectures, and other activities.
Q. Have you had any troubles during your life in Japan?
I like Japanese people, food, environment, and all other aspects of Japan. I have no trouble in daily life. However, it was hard work for me to prepare for the entrance exam, such as getting ready for the interview. Spoken and written Japanese have different expressions. It is difficult to tell the difference.
Q. What are your plans for the future?
I love Japan, so I intend to work in Japan after I graduate. I am interested in the field of media. My dream is to work at an editorial department of a fashion magazine. In order to prepare for this, I will study Japanese harder to improve not only my speaking skills but also my writing skills.
Q. Message to prospective students of Meiji University
Studying abroad is not your final goal. It is important to strive for a life goal during your time at university. I recommend that you practice reading newspapers, novels, and other difficult reading materials before you leave your country. It will help your study in Japan run smoothly.