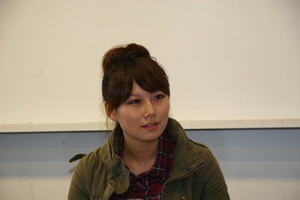 Seoul, Korea
Japanese Literature Course, Department of Literature, School of Arts and Letters.
Q. Why did you choose Japan and Meiji University?
When I was a high school student, I came to Japan to study for a week and stayed with a Japanese family. I was very attracted to the sound of Japanese language, the culture, and the warmth of the Japanese people. My experience at that time strengthened my interest in studying in Japan for a longer period. After studying at Japanese language school in Japan for one year, I entered Meiji University. In the School of Arts and Letters there are seminar-style classes that students can take from the first year. That is the main reason why I chose Meiji University.
Q. Are you satisfied with the support systems that are available?
When I had just entered the university, I was nervous as I didn't know how to go about starting campus life and other things about life in Japan in general. The staffs at the university's international office are very kind and friendly, and have always offered assistance whenever I have had any problems.
Right now, I am acting as the chair of the Meiji University Korean Association (http://www.meijikorea.com/). I work on supporting new students in Meiji University, and promote activities to deepen interaction among Korean students.
Q. What are your plans for the future?
I did an internship at the Embassy of the Republic of Korea in Japan this summer. I researched the extent to which Korean language education is available in Japan. Disappointingly, I found that teaching of the Korean language is not a regular feature of school education in Japan. My experience at the embassy has made me interested in a career that provides society with such information, and I hope to work in the field of mass communication in Japan in the future. To prepare for job hunting, I am attending a course called MMC held by graduates of the university who work in the mass communication sector.
Q. Message to prospective students of Meiji University
Studying abroad will be a precious experience in your life. Everyday has meaning. It is important to set your goals clearly, but don't' pressure yourself too much. Don't forget to enjoy yourself too, as this will create further opportunities beyond your expectations!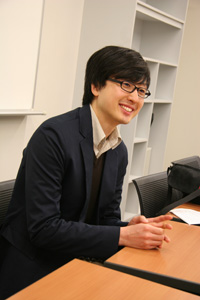 Seoul, South Korea
Department of Psycho-Social Studies, School of Arts and Letters
Q. Why did you choose Japan to study? Tell us how you entered Meiji University.
I was interested in Japanese games and movies. I studied Japanese as a second foreign language when I was a high school student. I had graduated from university in South Korea, but I wanted to learn Japanese at a higher level and was thinking to find a job making use of my Japanese skills in the future. So I decided to come to Japan to study. After studying at a language school, I entered a college of language, and took the entrance exam for foreign students of Meiji University.
Q. Why did you choose Meiji University?
The college of language I had studied at before I entered Meiji University was close to the Surugadai Campus. I had admired the atmosphere of the Academy Common on the campus on my way to the college. That was the start of my interest in Meiji University. I joined the campus tour and learned about the university. The decisive factors when I chose Meiji University were that it had school with a department related to the study of psychology, and that it had Center for Clinical Psychology, which enable me to have a great chance to develop my abilities, with the aim of becoming a clinical psychologist. Also, people around me say Meiji University is a good university. I'm very glad to attend the same university from which the movie director Takeshi Kitano graduated, as he is someone whom I respect.
Q. What are your plans for the future?
We are supposed to choose our special course of study in the third year. I will study Clinical Psychology which I have been interested in since I decided to enter Meiji University. I hope to go on to graduate school and obtain certification as a clinical psychologist. In the future I want to help people through counseling.
Q. Message to prospective students of Meiji University
Most students in South Korea, similar to those in Japan, are not earnest about their studies once they have entered university. College days are a very precious time in your life. I recommend that you attach importance to every day of your campus life. You should concentrate your attention in class at the very least.