Q.1: During the past one month, is the confirmed cases of COVID-19 in your country increasing, or decreasing?
Increasing, which is a sad case. Delta variant was also detected in our region and other places in the country as well.
Q.2: In past several months, did your government declared and introduced strict measures to restrict movements or actions of general public? If yes, what were they?
YES. The country was placed under Enhanced Community Quarantine (ECQ) in the early part of 2020 following the nationwide declaration of the state of calamity. With this, the movement of people, except for essential workers, were limited. So with the closure of non-essential establishments such as hotels, restaurants, leisure centers, among others. Public transportation were had suspended its operations too. ECQ was the highest restriction implemented. Currently, only a limited number of provinces/ cities were under ECQ and mostly, places now are under General Community Quarantine (GCQ), some with heightened restrictions.
Q.3: How have your life and work changed because of COVID-19 pandemic?
Currently with the surge in cases, work arrangement included on-site by 30% of the workforce and the rest are on a work-from-home arrangement. This is on a scheduled rotation among colleagues for the meantime. Fieldworks were limited. As I am working in the agriculture sector, field visits are essential so travels outside the province is necessary. Inter-provincial boundaries were set-up since local government units have put-up border controls. However, with people vaccinated against COVID-19, crossing provincial/ regional borders is easier. I will complete my vaccination by September 13, 2021 so I am expecting more ease in terms of movement within and outside our region, which is Zamboanga Peninsula.
Noteworthy to mention also is that, instead of more face-to-face activities, virtual meetings, workshops and seminars were quite a few due to the constraints brought about by the pandemic. Even implementation support missions with projects funded by World Bank were all done virtually, including the virtual project tour.
Q4: What do you think are necessary for the society of your country to prepare for / to deal with another pandemic expected to happen in the future?
Full awareness of the pandemic and its causes, respect for authority (like WHO, Department of Health, etc) and self-discipline are among the crucial steps in preparation for other pandemic. Hopefully none for the next years. A country or society should invest more on making its people healthy so access to basic health services is key. A well-thought plan and strategy coupled with an efficient structure (people and hard infrastructure) should be in place.
Q.5: How are you taking advantage of the experience with Meiji University? What do you think are the "growth" or "progress" that you made through the 2-year study?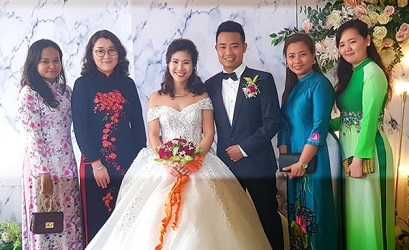 A scene at GSGS friend's wedding (Photo taken on March 2019)
My experience with Meiji University-GSGS changed my perspective in a lot of ways. Personal growth like better goal-setting, for both personal and professional application, is among those. Example, choosing better opportunities for training and capacity development activities which will aid me later in achieving my goal/s.
My takeaways from Meiji University on the fields of community engagement, environmental management, public policy, consensus building, NGO management and crisis management, among others, equipped me in my field as part of the 'middle management' within the Philippine Department of Agriculture. These backgrounds help me in terms of sharing knowledge when invited as resource person or presenter in some activities. At this level in my career, supervisory, management and leadership capacities are among the skills being developed further.
Being a mentor now for junior personnel in our Division is a good venue for me to share my learnings at Meiji University for both their personal and professional growth in the sector as development workers.