The Three Programs
The three programs that form the degree track are both global and local in scope. Their cores consist of, respectively, Public Policy, International Development Policy, and Community Planning and Management. From these standpoints, they take up major topics of immediate relevance to contemporary world issues, including decentralization, "good enough governance," citizen participation, sustainable development, economic development cooperation, regional development, and poverty reduction.
Public Policy Program
This program is designed to cover the public policy process, from identifying issues to formulating, implementing, and evaluating policies. Underlying this approach is the growing importance of related knowledge and expertise to the policy process, including expertise in political science, public administration studies, and business management-style efficiency. Specific courses provide an understanding of all aspects of governance, covering not only political science, public administration studies, public finance, public management, and urban policy, but also policy studies designed to familiarize students with the actual status of developments in these areas.
International Development Policy Program
Drawing on disciplines concerned with international economics and the environment, the program is designed to give students an understanding of the global issues of sustainable development and poverty as viewed from various social system perspectives. While economic development based on market principles has created wealthy societies, it has also posed global problems such as environmental degradation and income disparity. As points of entry to address these issues in the public policy arena, the courses focus on international development policy, macro- and micro-economics, environmental policy, environmental economics, and resource management.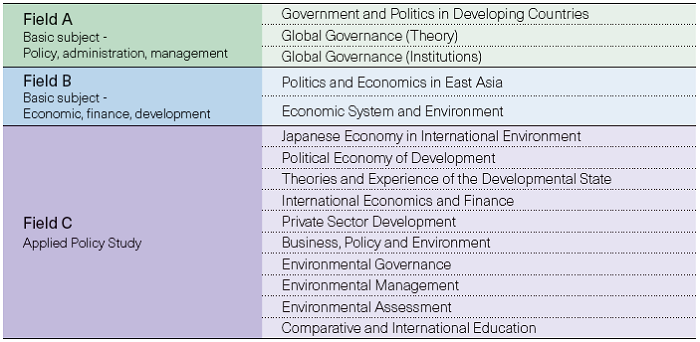 Community Planning and Management Program
The community is where governance comes most closely in contact with people's lives. Framing global issues from local perspectives, the program is organized around the process of making, implementing, and evaluating policies for their solution. It also focuses on crisis management and the role of the community in responding to natural disasters and terrorism. Areas covered include community policy, community development, NPOs, social development, crisis management, and disaster management.