Q.1: During the past one month, is the confirmed cases of COVID-19 in your country increasing, or decreasing?
At the time I am writing this, the situation has begun to decline. There are now 100 cases of infection and 3 died by 10th September 10, 2021, whereas 2 months ago, 200 to 400 new cases of infection were recorded every day, and 5-7 people died. The infected are detected in all regions, but most of all in the capital Bishkek and the nearest Chui region.
Q.2: In past several months, did your government declared and introduced strict measures to restrict movements or actions of general public? If yes, what were they?
All measures are limited to requests to wear masks and not to visit unnecessarily crowded places.
Q.3: How have your life and work changed because of COVID-19 pandemic?
Within our country, there is no strong influence of the virus on the daily routine. But those who travel outside the country feel the inconvenience of free movement between countries since many are still closed for entry.
For me personally, the pandemic did not affect us so much. I personally and my children constantly wear masks, we often go on foot instead of public transport.
In Kyrgyzstan, despite the pandemic and the ban on holding crowded family celebrations, they are held. For example, in 1 month my husband and I were invited to 4 such events, where 50 or more people gather. We had to go to 1 (called too persistently :))) At work, the situation is similar, the management asks everyone to wear masks, but in fact, only a few wear them.
Q4: What do you think are necessary for the society of your country to prepare for / to deal with another pandemic expected to happen in the future?
I think that in order to fight another pandemic that may happen in the future, we must forge close cooperation between society and the government. The state and non-governmental organizations should carry out preventive work. For example, in schools in universities, and government agencies, conduct explanatory seminars using statistics so that people understand the full scale of what is happening or a possible pandemic. Also, the media can be very helpful in highlighting the importance of preventive measures to combat the pandemic through the mass media.
I believe that now people are less likely to watch television and listen to the radio and use Internet resources more, why not use these popular resources. Therefore, I say that the state should seek to cooperate with civil society. I hope that through the education of society can the negative phenomenon of a pandemic be reduced.
Q.5: How are you taking advantage of the experience with Meiji University? What do you think are the "growth" or "progress" that you made through the 2-year study?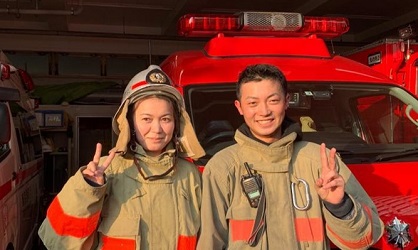 A scene at the field trip to the TOKYO FIRE DEPARTMENT
I am very grateful to the Japanese people that I was able to study at one of the best universities in Japan. From the very first days, we learned to draw up our own schedule, which is not in our training system. Japan taught me to make decisions myself and be responsible for them.
Meiji University learned me to show my opinion without being afraid that I say something is wrong and for this, I will be condemned. The professors taught us to speak and defend our opinion and prove reasonably. It was very comfortable for me to study at Meiji University. Thanks again to all the Graduate School of Governance Studies.