Oct. 23, 2018
We are deeply grateful to you all for your attendance at the party.
It's our great pleasure that we could welcome lots of visitors.
Date: Saturday, December 1, 2018
Venue: Surugadai campus, Meiji University
Registration capacity: 350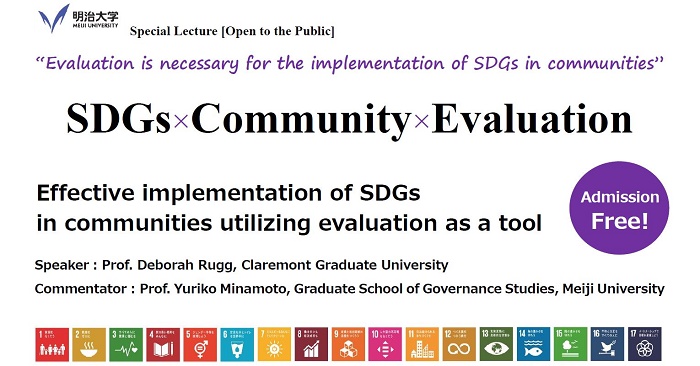 Hosted by Meiji University Graduate School of Governance Studies
Co-hosted By Institute for Program Evaluation of Meiji University
"Effective implementation of SDGs in communities utilizing evaluation as a tool"
Program evaluation is a tool to produce the evidence that communities need to understand what is and isn't working in solving their local problems. It is about inspiring ownership by the people. At the heart of localizing the ambitious global initiative envisioned under the Sustainable Development Goals (SDGs) framework, is ownership and participation by the people involved. This is why the SDGs are called a "people-centered" movement. We invite Dr. Deborah Rugg, one of the leading evaluators on the SDGs Evaluation in the United States, to deliver a lecture about Effective implementation of SDGs in communities utilizing evaluation as a tool.
Event Outline
Date: Saturday, December 1, 2018 at 10:30 AM until 0:10 PM
Registration capacity: 350
Fee: Free
Registration: Click here to get started.
Simultaneous interpretation available
Speaker

Dr. Deborah Rugg is a faculty member at Claremont Evaluation Center – New York (CEC-NY).
She is the former chair of the UN Evaluation Group (UNEG) and former director of the Inspection & Evaluation Division, UN Secretariat. She was the senior evaluation adviser to the UN during the final negotiations of the 2030 Agenda. She serves on the executive board of the American Evaluation Association.
Commentator

After graduating from International Christian University, she earned MA in Global Management from Thunderbird School of Global Management in the USA and Ph.D. in Tokyo Institute of Technology. After working for the Japan International Cooperation Agency (JICA) and the Foundation for Advanced Studies on International Development (FASID), she has engaged in research and development of evaluation systems and methods for JICA, the World Bank and NGOs as international development consultant. Recently she also deals with policy/program evaluations of Ministries and local governments in Japan. She is currently a vice president of the Japan Evaluation Society (JES).
Access
3 minutes on foot from JR Chuo/Sobu Line and Subway Marunouchi Line, Ochanomizu Station
5 minutes on foot from Subway Chiyoda Line, Shin-Ochanomizu Station
5 minutes on foot from Subway Mita, Shinjuku, and Hanzomon Lines, Jimbocho Station
div>