Mizutani and Niwa, Japan's table tennis representatives for the Tokyo 2020 Olympic Games, visit Meiji University to report on their medal win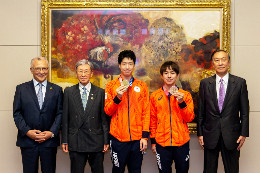 (From left)
President Dairokuno, Kodama General manager of
the Meiji University Table Tennis Club, Jun Mizutani,
Koki Niwa, Chairman, Board of Trustees Yanagiya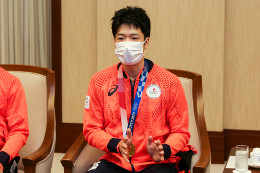 Mizutani recalled his fierce battle with
"I tried my best to score each point in front of me."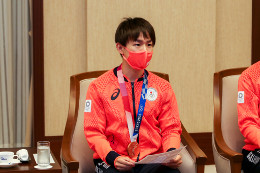 Niwa said with gratitude,
"My family's support has motivated me."


Japan's male table tennis players, Jun Mizutani (graduated from School of Political Science and Economics in 2013) and Koki Niwa (graduated from School of Political Science and Economics in 2017), who participated in the Tokyo 2020 Olympic Games, and Keiji Kodama, General manager of the Meiji University Table Tennis Club, visited the Surugadai Campus on August 25 and reported on their medal win and Olympic struggles to President Kosaku Dairokuno and Chairman, Board of Trustees Takashi Yanagiya.
Mizutani won Japan's first-ever gold medal in table tennis in a new event, mixed doubles. In addition, Mizutani and Niwa won a bronze medal in the men's team event, which impressed the whole country. The two athletes also visited the university when they won a medal at the Rio de Janeiro 2016 Olympics, so it was a second visit to their alma mater with a big smile.
Regarding the mixed doubles match, Mizutani said, "I didn't miss the chance even though I took the lead away from the opponent and the score was far apart. I tried my best to score each point in front of me. That strategy led me to score consecutive points and eventually win the victory." "There are two types of table tennis: conscious play and unconscious play. Sometimes it is too late to recognize the ball or the opponent's movement in the brain and start moving after it is transmitted to the brain, so you also have to train the parts you do unconsciously. The only way to reach that goal is to practice repeatedly," he added, explaining that it is the accumulation of daily practice that is important.
Niwa said, "Mizutani, my senior, and I went on to Aomori Yamada High School and Meiji University, and he has been able to achieve outstanding results. I have great admiration for him, and there were also many great seniors who were active in the world of table tennis at Meiji University. I wanted to follow my seniors, so I devoted myself to competition," he said, looking back on his four years at Meiji University. "The Tokyo Olympics were postponed for a year, and the international games were canceled. It was a difficult environment for me, but the support of my family has motivated me," he added, expressing his gratitude to his family and others.
President Dairokuno and Chairman, Board of Trustees Yanagiya praised the two players for their performance. "Although you must have faced many difficulties in the Tokyo Olympics, which was held at such a difficult time as the COVID-19 pandemic, your performances were exciting," President Dairokuno said. "I can't be happier to receive such a wonderful report on your medal win in Tokyo Olympics, followed by your achievement in Rio Olympics," said Chairman, Board of Trustees Yanagiya.