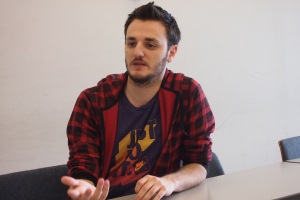 Paris, France
Department of Commerce, School of Commerce
Exchange student from Ecole Superieure de Commerce de Rennes
Q. What made you want to come to Japan to study?
When I was 12 years old, at a school that corresponds to junior high school in Japan, I was able to choose Chinese, Vietnamese, or Japanese to study as a foreign language. I chose to learn Japanese and that motivated me to study in Japan. I also studied for a year at a private high school in Tokyo when I was a high school student and experienced a home stay. So when I started thinking about going to study in Japan again at university, I learned about the exchange program between the ESC Rennes School of Business and Meiji University and applied.
Q. What are you currently studying?
I am interested in Japanese marketing and corporate ethics, and I am currently taking Professor Nobuyuki Demise's Enterprises and Ethics, Professor Makoto Mizuno's Creative Marketing Theory, and Professor James Bower's International Communication, among other classes, learning about corporate social responsibility, marketing methods at Japanese companies, and intercultural communication. There are many classes taught in English at the School of Commerce, and half the classes I am currently taking are in English.


Q. What differences do you perceive in Japanese and French universities?
The biggest difference between Japanese and French universities is the length of classes. At universities in France, many classes last two to three hours. In Japan, classes are an hour and a half, and the contents are concentrated. Also, there isn't a lot of homework, and preparing for classes does not take long, in spite of the language handicap. Therefore, I can use my limited time here as an exchange student for activities other than studying as well, and I feel that I am balancing my studies with my private time well.


Q. Have you made many Japanese friends?
Both the university and the school hold many exchange events. There is also group work in class with Japanese students, so there are many opportunities to make Japanese friends. I live in the Izumi International House for international students, so I have made many friends from all over the world as well, and on the weekends we go together to various seasonal events held every week.


Q. Have you had any problems living in Japan?
This is my second time studying in Japan, so I haven't had many problems. However, I feel that prices are high in Tokyo, because of the strong yen against the euro. Eating out is less expensive than it is in France, but fares for public transportation are very expensive.


Q. Tell us about your outlook for the future.
I belonged to a circus for 15 years since I was 3 years old, doing acrobatics and juggling. The circus traveled to 30 countries, mainly in Europe, and having traveled to various countries with different cultures and languages since I was young was a valuable experience that widened my horizon. When I was 17, I was injured and was no longer able to perform in the circus. So I started studying commerce at university, but one of my dreams for the future is to direct plays and other shows. I think that the knowledge I gain on commerce, such as marketing, will be useful when I am a director.