Meiji Business School (MBS) Held Overseas Programme in Bangkok, Thailand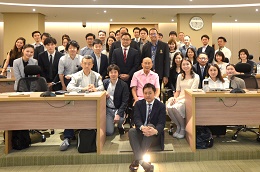 Group Photo with Dean of Sasin School of Management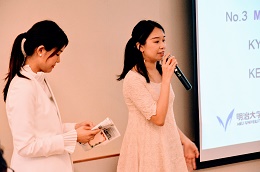 Presentation by MBS students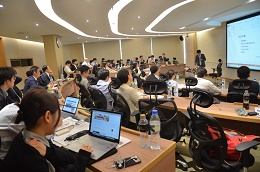 Lecture Session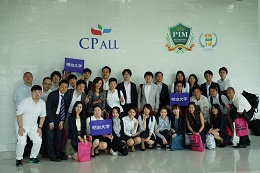 Group Photo in PIM
The overseas field study trip in Bangkok Thailand has conducted by Dr. Takamasa Fujioka an Associate Professor of Meiji Business School (MBS) from June 26th to 29th.

The main goal of this programme is acquiring in-depth understandings and first-hand information about key problems and issues for Japanese companies in doing business in ASEAN countries, a rapidly developing region over the past decades.

About 35 MBS MBA students have joined this field-based programme. On the first two days, our students took business school session provided in English by professors of Sasin School of Management of Chulalongkorn University and many top executives from various institutions and industries. On the third day, all students visited Panyapiwat Institute of Management (PIM) founded by CP group, the largest financial group in South East Asia as well as site visits on Smart City project and Japanese embassy in Thailand. Through those visits and sessions, MBS students conducted various interviews, questionnaire based survey and field study in various institutes.

MBS students are divided into several study groups to foster their understandings on the specific business-related issues such as logistic chain in Mekong region, Thailand plus one strategy, medical tourism and inbound strategy, human resource management in emerging country and transformation of Japanese management styles in Asia. Each group is required to set up relevant research questions and apply theoretical frameworks which they have learnt in the lecture session conducted at MBS in Tokyo.

All participants enjoy the lectures and sessions provided by first-class business person and government officials as well as business school professors. Their research questions have refined and sharpened throughout these sessions and field tours.

MBS, in collaboration with Sasin School of Management and various top business schools in Asia, commits to provide more of Asia field-based learnings to cultivate business professional capability of our MBA students and to help them acquire first-hand knowledge about growing region outside of Japan. We will continue to refine our programme and collaborate with top business schools in Asia to provide more field-based learning opportunities outside of class room for our students.