Dr. Fujioka, Associate Professor of MBS, Provided Keynote Speech at Asia Digital Society Forum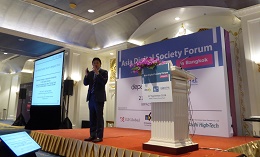 Keynote Speech by Dr. Fujioka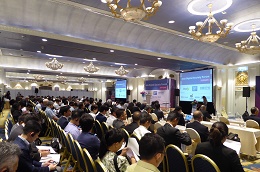 Keynote Speech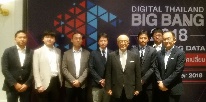 Group Photo with Mr. Sadoshima (Ambassador, Embassy of Japan) and MBS members
Dr. Takamasa Fujioka, Associate Professor of Meiji Business School provided a keynote speech at Asia Digital Society Forum (organized by Nikkei BP and Thai Government) held at IMPACT exhibition and convention center in Bangkok September 21, 2018. The event was started by opening guest of honor addresses which were provided by H.E. Mr. Shiro Sadoshima (Ambassador, Embassy of Japan) and H.E. Dr. Pichet Durongkaveroj (Minister of Digital Economy and Society, Kingdom of Thailand) followed by Prof. Fujioka's keynote speech on "Impact of Digital Society on the business strategy: balancing between great convergence and divergence".

Over 300 participants from industries, academics and government officials joined the seminar. Meiji Business School's MBA students are also joined the event and had an opportunity to exchange ideas and greet with the Ambassador of Japan and government officials of Kingdom of Thailand as well as executives from leading companies in Asia.

Meiji Business School will keep on providing opportunities for students to learn from first-hand experience in the real world business.