【Meiji MBA】Report of International Week in New York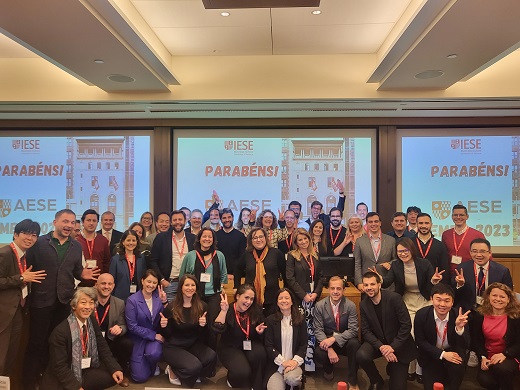 Group Photo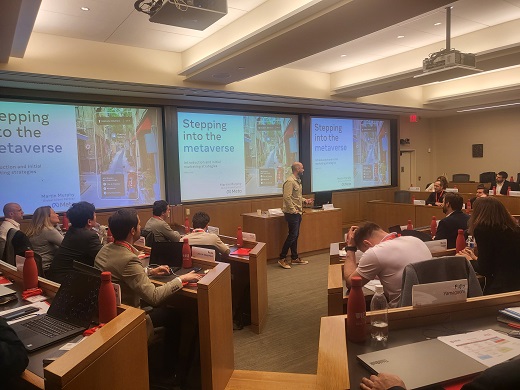 Class Photo 1
Lunch Time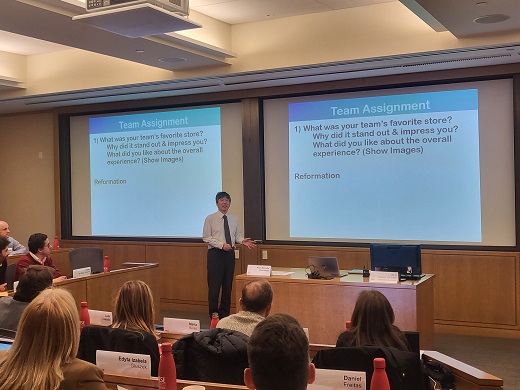 Class Photo 2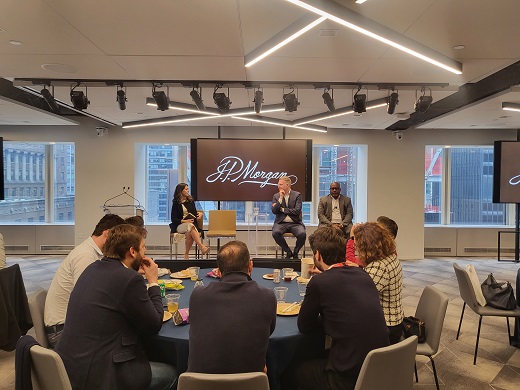 Visit to Corporation
Meiji Business School (Graduate School of Global Business, MBS) participated in the "International Week in New York" (Prof Fujio Yamaguchi). The International Week is part of a course called 'Global Business Studies' at MBS, which is designed to cultivate an international mindset in students, but this time it was held as an extracurricular class at the invitation of AESE Business School in Portugal.

<International Week in New York>
Monday 24 - Thursday 27 April 2023
From 24 to 27 April this year, six students from the Graduate School, together with students from AESE Business School and its partner, Krakau University School of Business, attended lectures and workshops, visited offices and had discussions with management at IESE Business School New York, a sister school of AESE Business School. The theme of this year's conference was Driving Business Innovation. The theme was Driving Business Innovation and the lecturers were mainly professors from NYU Stern who were invited as lecturers at IESE Business School.
 
[DAY 1]
After an opening presentation, Prof Sonia Marciano from NYU Stern School of Business gave a presentation on the business model of Steinway, a long-established piano manufacturer that is responsible for most concert grand pianos, under the title of Strategy and Growth.
In the afternoon, Professor John Almandoz of IESE Business School gave a presentation on human resource management at Bridgewater, the world's largest hedge fund. Next, he confirmed that the Orpheus Chamber Orchestra, which is based at Carnegie Hall and has no conductor or leader, has been performing creatively for many years. The participants then learnt why the chamber orchestra's characteristic spontaneous and democratic management and decision-making mechanisms are linked to 'creativity'. The day concluded with a lecture by a META guest speaker on the current and future potential of the Metaverse.
IESE Business School New York is located opposite Carnegie Hall, the music hall of fame in the USA, and was formerly home to the Ukrainian Ballet Company. The fact that lectures on art, such as the Steinway business model, were given on the first day first made me acutely aware that art has a major place in modern business.
 
[DAY2]
After an overview of the history of computers and AI in a lecture by Professor Natalia Levina, Professor at New York University, it was explained that in order to better understand decision-making with AI, it is important to understand 1) the nature of the data used to build AI tools, 2) which decisions are suitable, 3) the short-term and The participants learnt that it is important to know 1) the nature of the data used to build AI tools, 2) which decisions are suitable, and 3) the short and long-term risks associated with AI augmentation. In addition, each participant presented and discussed what possibilities and problems might arise regarding the implementation of AI in their respective workplaces.
The afternoon was a warp shop by Prof Michelle Greenwald, who distilled current mainstream marketing strategies from the best practices of successful shop clusters. After a lecture on digital marketing & omni-channel retail, teams of six visited around six shops on Fifth Avenue in New York. After the shop visits and interviews, the teams organised their learning from the visits and gave presentations on the strategies that resulted in best practice.
 
[DAY 3]
The different dimensions of corporate innovation were organised and analysed using the 'Corporate Innovation Map' developed by Professor Oseas Ramirez. This map enables executives to understand "what they can control" and deal with challenges in a calm manner.
In the afternoon, the workshop format was used to present the challenges in their own workplaces and what innovations are needed to address them, followed by discussions and presentations on how to solve them. The second half of the day was spent at the offices of SAP, a company with an established reputation for building mission-critical systems, where the participants toured the company and learnt about how design thinking is applied within the company to produce results, while looking at concrete examples of how design thinking is applied within the company.
 
[DAY 4]
In the morning, the group received a lecture from an executive from McKinsey, a consulting firm, on the company's strategy and use of AI. In the afternoon, the participants visited the headquarters of JP Morgan on foot and listened to a dialogue between three executives over lunch, where they asked questions for a long time and received detailed answers to their questions. The content covered a wide range of topics, from strategy to risk management, but I was surprised at the great importance placed on AI. This could be said of the whole course, but it was clear to see how companies are focusing on how to use AI to improve accuracy and reduce costs in management, and how to enhance services using AI. In addition, JP Morgan's attitude to quickly identify companies around the world that are successfully using AI and make them targets for investment was clearly evident. It was an opportunity to learn about state-of-the-art management as well as the use of English techniques in management on the first day.

In 2018, MBS obtained the international accreditation EPAS (now EFMD Accredited), which led to the signing of a Memorandum of Understanding with AESE Business School, Portugal's prestigious business school, in July 2020, and a mutual student exchange programme (International Week). to implement a mutual student exchange programme (International Week). In addition to this extra-curricular programme, in FY2023, MBS students will be sent to AESE Business School in Portugal in September, and AESE Business School students will be accepted and trained at the University in February.