【MBS】Delegation from Sasin Graduate Institute of Business Administration of Chulalongkorn University (Sasin)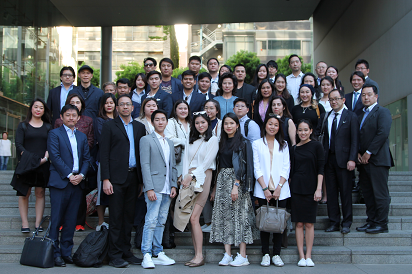 Group Photo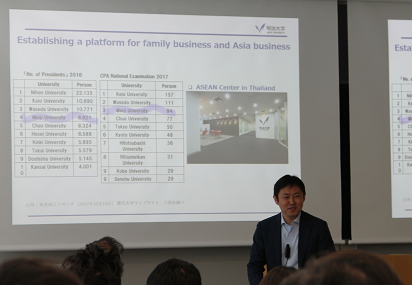 Lecture by Dr. Fujioka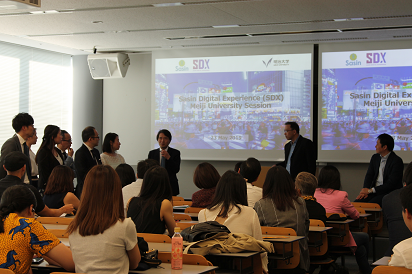 Free Discussion
Meiji University Business School (MBS) welcomed and had relationship with delegation from Sasin Graduate Institute of Business Administration of Chulalongkorn University (Sasin) on 23 May, 2019.

As a part of executive education, Sasin has started Sasin Digital Experience (SDX) programme where students in Sasin research how digital technologies should be applied to the society through lectures by experienced researchers and interaction with practitioners. This is three-month programme including overseas field studies.

Dr. Takamasa Fujioka in MBS (also serves as the Director of Sasin Japan Center) has made a continuous effort to realize great relationship between MBS and Sasin. This relationship enabled this overseas field study.

The delegation had 45 students from Sasin who have various backgrounds: Microsoft, Nestle, EY, Kasikorn Bank, an executive of Thailand air force, Owners of SMEs and so on. The students in MBS and Sasin had interactive discussion and built a good relationship during this experience. The sessions of this programme conducted all in English provided a great opportunity for MBS students to acquire and exchange the first hand experience of emerging market.

Timetable
1. Campus Tour in Meiji University Surugadai Campus by Prof. Fujio Yamaguchi, PhD
2. Opening Speech by Prof. Satoru Kimura, Dean of MBS
3. Outline of MBS and Impact of the Digital Convergence on Business by Assoc. Prof. Takamasa Fujioka, PhD.
4. Digitalization in Japan by Mr. Seitaro Seko
5. Free Discussion between MBS students and Sasin students led by Assist. Prof Piyachart, PhD.

MBS, in collaboration with various top business schools in Asia, commits to provide more of interactive learning experiences to our MBA students and to help them acquire first-hand knowledge about growing region outside of Japan.