Opened in May of 2012, the Izumi Library has become a symbol of the Izumi Campus. Built to be an inviting library that draws people in, the new facility is equipped with a variety of spaces and seating for users. Thereby it acts as the "face" of the Izumi Campus and fulfills its aim of spreading information.
Izumi library consists of four floors of open stack shelving and six floors of stock rooms. The library stocks books mainly about the arts and social sciences. The books focus on the needs of the first and second-year students in the six undergraduate schools and the Graduate School of Humanities represented on the Izumi Campus.
The spaces include a Hall, a Gallery, a Circulation counter, a Reference counter, an area for Reference books, and Information literacy rooms on the first floor (1F).
At the Research assistance counter teaching Assistants are available to help students write reports and research papers.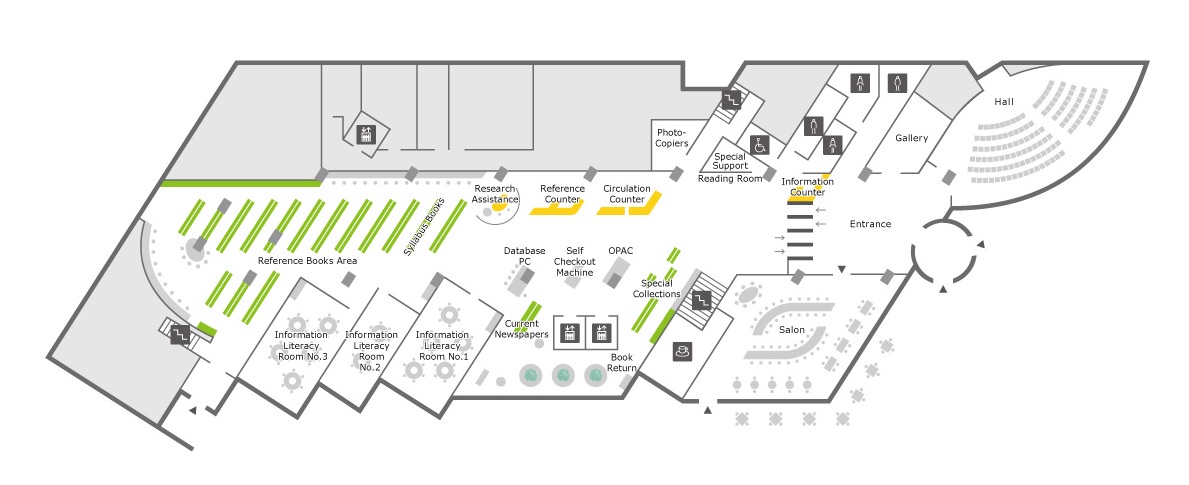 Here there are journals/magazines and paperbacks on open stacks on the second floor (2F). To encourage students
to study collaboratively
there is also a communication lounge and there are group study rooms acting as a common learning area.


On this floor there are open stacks of general works covering Philosophy, History and the Social Sciences classified under the NDC system (Nippon Decimal Classification). There is also a Microform room on this floor.

The fourth floor (4F) contains books on open stacks covering the Natural Sciences, Technology & Engineering, Industry & Commerce, Arts, Language and Literature classified under the NDC system. On this floor users have to be very quiet because it is devoted to concentrated study. The terrace and deck provide refreshing places to study.

List of Newspapers in the Izumi library
The latest issues of newspapers are stacked in the newspaper corner on the first floor (1F).
After a certain period of time, these are moved to the second floor (2F) stock room. Please ask for details at the circulation counter.
National newspapers / Specialty newspapers / Political party newspapers / Sports newspapers / Others
| | |
| --- | --- |
| Newspaper title | Retetio period |
| Asahi Shimbun | until reduced edition arrives |
| Mainichi Shimbun | until reduced edition arrives |
| Yomiuri Shimbun | until reduced edition arrives |
| Nihon Keizai Shimbun | until reduced edition arrives |
| Nikkei Marketing Journal | 1 year |
| Sankei Shimbun | 1 year |
| Nikkan Sports | 1 year |
| Sports Hochi | 1 year |
| Akahata | 1 year |
| Komei Shimbun | 1 year |
| Fujin Minshu Shimbun | 1 year |
| Weekly Dokushojin | 2 years |
| Tosho Shimbun | 2 years |
| | |
| --- | --- |
| Newspaper title | Reretio period |
| Hokkaido Shimbun | 1 year |
| Kahoku Shimpo | 1 year |
| Niigata Nippo | 1 year |
| Tokyo Shimbun | 1 year |
| Chunichi Shimbun | 1 year |
| Kyoto Shimbun | 1 year |
| Kobe Shimbun | 1 year |
| Chugoku Shimbun | 1 year |
| Ehime Shimbun | 1 year |
| Nishinippon Shimbun | 1 year |
| Ryukyu Shimpo | 1 year |
Foreign language newspapers
Newspaper title

Publication

Reretio period

Asahi Weekly

Japan

1 year

The Japan Times

Japan

1 year

The Japan Times on Sunday

Japan

1 year

The Japan Times alpha

Japan

1 year

The New York Times[International edition]

USA

1 year

The New York Times

USA

1 year

Die Welt

Germany

1 year

Le Monde

Selection hebdomadaire

French

1 year

The Observer

United Kingdom

1 year

Sunday Times

United Kingdom

1 year

東亜日報

Korea

1 year

人民日報(北京版)

China

1 year

工人日報

China

1 year

中央Sunday

Korea

1 year

明報

Hong Kong

1 year

聯合報

Taiwan

1 year