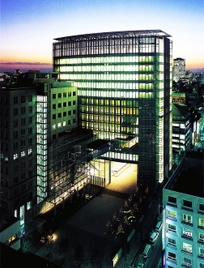 Academy Common, a hub of lifelong learning
Social contribution stands alongside education and research as the third core value of Meiji University, which means that the university opens new doors by sharing its intellectual assets with society. Meiji University looks to apply its assets in ways that address a broad range of social needs, fulfilling its mission of social contribution. At the same time the university has begun building new collaborative social structures as a means of fostering deeper interaction with the local and global community. The experiences gained from these interactive activities are in turn used to take education and research to the next level.
Enriching lifelong education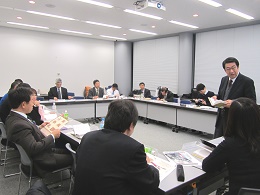 Business program of Liberty Academy
We are also working to provide enhanced lifelong learning opportunities by putting together programs that address the need for more sophisticated educational topics in the community. One such initiative is setting up local centers at each campus to conduct better and more frequent lifelong learning projects.
・TEL/FAX
TEL:03-3296-4423
FAX:03-3296-4542
・E-mail

academy@mics.meiji.ac.jp
・URL

https://academy.meiji.jp/
Center for Promoting Regional Community Relations
Encouraging regional collaboration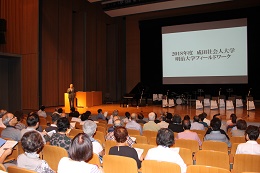 Adult continued education course in cooperation with Narita city
Each of Meiji University's three founders hailed from a different region, and collaborative achievements are one of our core values. We are looking to take this value even further with more profound and extensive collaborative projects that include new parts of the world and new kinds of joint efforts.
・Address
11th Floor, Academy Common, Surugadai Campus
1-1 Kanda-Surugadai, Chiyoda-ku, Tokyo 101-8301
・TEL/FAX
TEL: 03-3296-4539
FAX: 03-3296-4541
・URL
http://www.meiji.ac.jp/social/index.html