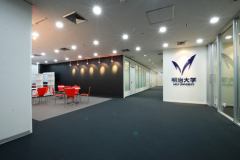 Meiji University ASEAN Center opened in May, 2013
In 1989 the International Exchange Center was set up at Meiji University in order to support international activities such as academic exchanges, accepting overseas students and sending Meiji University students to universities in other countries. The Organization for International Collaboration was set up in October 2009 with the aim of further promoting and hastening the spread of internationalization, and making a greater international contribution through increasingly high levels of education and research.

The Organization for International Collaboration consists of three separate sections: the Headquarters of International Collaboration, the International Student Center, and the Japanese Language Education Center.

Each of these bodies is linked to various institutions within the University, and through such collaborations they are expanding internationalization at Meiji University.


Headquarters of International Collaboration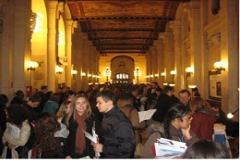 Study in Japan Fair in Paris 2013
The Headquarters of International Collaboration decides on policies concerning the promotion of internationalization at Meiji University. It is involved in activities such as planning, promoting links with higher educational institutions in other countries, promoting the University as an international base and organizing international conferences, etc.

Director, Headquarters of International Collaboration
Teruhisa KOMURO, Vice President (International Affairs), Professor of School of Law

Deputy Director, Headquarters of International Collaboration
Susanne SCHERMANN, Professor of School of Law
James Andrew ELWOOD, Professor of School of Interdisciplinary Mathematical Sciences

Contact: International Collaboration Office
TEL: 03-3296-4191
FAX: 03-3296-4360
E-mail: ico@mics.meiji.ac.jp

International Student Center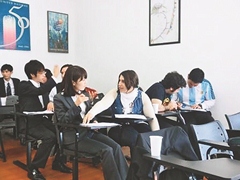 Meiji students participating in Latin America Cultural Exchange Program
The International Student Center promotes international education by supporting international exchange of students from other countries and in turn, sending Meiji students on exchanges to foreign countries.

Director, International Student Center
Masao KIKUCHI, Professor of School of Business Administration

Contact: International Student Office
TEL: 03-3296-4141
FAX: 03-3296-4360
E-mail: cip@mics.meiji.ac.jp

Japanese Language Education Center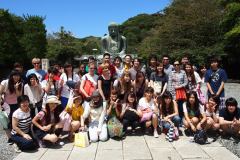 One day trip to Kamakura organized by Japanese Language Program
The Japanese Language Education Center promotes international educational exchange by carrying out Japanese language education and research for overseas students during their stay at Meiji University.

Director, Japanese Language Education Center
Toru YAMADA, Professor of School of Arts and Letters

Contact: International Student Office
TEL: 03-3296-4146
FAX: 03-3296-4360
E-mail: japanese@meiji.ac.jp