Topics
An Illusory Object Discovered by Professor Kokichi Sugihara has been Reproduced as the World Smallest "Impossible Object"
An illusory object created as part of the research of Professor Kokichi Sugihara, Director of the Meiji Institute for Advanced Study of Mathematical Sciences (MIMS), has been reproduced (3D printed) as a microscopic impossible object at the size of a red blood cell, using the FluidFM 3D printing technology of Cytosurge (Switzerland).


Thirty-five works of visual illusion by Professor Kokichi Sugihara are now on display at the National Palace Museum of Taiwan
It is a long exhibition that will run for a period of 17 months from Thursday, September 20, 2018 to Sunday, February 23, 2020.
Professor Sugihara won first prize (highest award) at the Best Illusion of the Year Contest 2018 for his work on illusory research.
This special exhibition features a collection of jade made from the Warring States period to the Han Dynasty (475 BCE-220 CE), works of illusory art, as well as works of visual illusion by Professor Sugihara, the product of his scientific research. It offers some aspects of the visual effects of these two types of works that set each other apart in time for two millennia from a perspective of illusion.
Optical Illusionist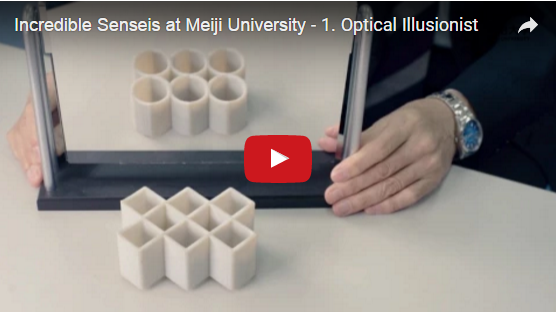 Let us introduce our
latest movie
"Optical Illusionist"
. (One of the series "Incredible Senseis at Meiji University #1~#3")
Have you seen the optical illusions video that went viral? Prof. Sugihara researches optical illusions in a mathematical way. And he uses numbers to create as many optical illusions as he likes. Now, let's enjoy his works! Be ready to get your mind blown away.
Origami Changes Everything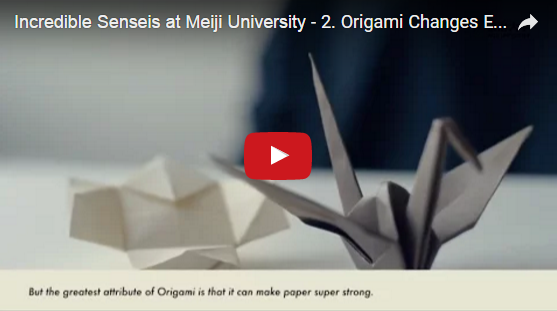 Let us introduce our
latest movie
"Origami Changes Everything"
(One of the series "Incredible Senseis at Meiji University #1~#3")
Do you know the greatest attribute of Origami is that it can make paper super strong? Prof. Hagiwara is a leading expert on Origami engineering. Mass producing Origami structures is very difficult. But He succeeded in developing the Origami 3D printer. Let's become witness of his super cool invention!
Project Summary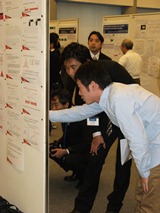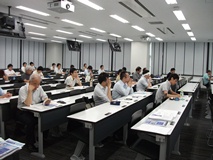 We aim at the development and promotion of mathematical sciences on various social/natural phenomena. We also aim at the education and assistance of young researchers/students to popularize mathematical sciences. Through those activities, MIMS will become an outstanding international research center on pioneering mathematical sciences.
MIMS establishes four research groups : (1) Fundamental Mathematics Group (algebra, geometry, analysis), (2) Mathematical Modeling and Analysis Group (data analysis, simulation, mathematical analysis), (3) Mathematical Education Group (history of mathematics, mathematical education), and (4) Advanced Mathematical Sciences Group (research projects related to the above three groups). We will promote research activities, nurture researchers and highly-skilled experts, and provide various activities required by our university and regional society.
In order to promote advanced research in mathematical sciences, MIMS will call for research projects, which is not only inside our university but also open public to all researchers in the world. The leader and researchers of an adopted project will join us as research fellows of Advanced Mathematical Sciences Group.
Director's Message
It is my great pleasure as well as honor to serve as the director for Meiji Institute for Advanced Study of Mathematical Sciences (MIMS). MIMS started its activity 10 years ago with a strong readership of the first director Prof. Masayasu Mimura, and followed by the second director Prof. Ichiro Hagiwara, and is now in its 11th year. We have been and are developing researches in mathematical sciences with the emphasis on "Mathematical Modeling and Applications". At present MIMS has two main roles. First, MIMS is serving as the Joint Usage/Research Center on Mathematical Modeling and Its Applications (CMMA), which is selected by MEXT as one of the three centers in the area of mathematics and mathematical sciences in Japan, Second, MIMS is acting as the primary promotion body for the MEXT private university research branding program on "Math Everywhere: Meiji University Carrying Mathematical Sciences – Understanding Phenomena through Modeling". We will do our best to pursue these missions, and would be glad for receiving your warm understanding, support and cooperation continuously as before.
April 2017


Kokichi Sugihara
Director, Meiji Institute for the Advanced Study of Mathematical Sciences

Professor of the Meiji University Organization for the Strategic Coordination of Research and Intellectual Properties