Topics
MUIIBR successfully develops breeding, production, and supply systems of disease model pigs for rare and intractable disorders
Meiji University International Institute for Bio-Resource Research (MUIIBR: Hiroshi Nagashima, Professor in the School of Agriculture) has successfully developed breeding, production, and supply systems of disease model pigs for rare and intractable disorders, and recently published a paper on Proceedings of the National Academy of Sciences of the United States of America (PNAS) on January 8th, 2018.

Appearance by Professor Nagashima at the "iPS Cells and Medicine of the Future" symposium
On March 6 (Mon.), the Center for Stem Cell Biology and Regenerative Medicine at The Institute of Medical Science, The University of Tokyo (IMSUT) hosted a symposium titled "iPS Cells and Medicine of the Future" in Hongo, Tokyo. Professor Hiroshi Nagashima of the School of Agriculture at Meiji University was invited to give a lecture.
Speakers at the symposium included Professor Shinya Yamanaka, Director of the Center for iPS Cell Research and Application, Kyoto University, which co-hosted a symposium with Meiji University in July 2015, and Professor Nagashima. Additional speakers included Professor Hiromitsu Nakauchi, Director of the Center for Stem Cell Biology and Regenerative Medicine, IMSUT, who is engaged in joint research and collaboration with Professor Nagashima (Professor Nakauchi is currently also engaged in research in the United States as a professor at Stanford University) as well as researchers from four other institutions. The symposium drew an audience consisting of many researchers, clinicians, students, and members of the general public, who filled the venue and engulfed it in an atmosphere of enthusiastic interest.

Generation of fibrillin-1 mutant pigs as a model for Marfan syndrome.
Kazuhiro Umeyama, an associate professor, Hiroshi Nagashima, a professor from Meiji University International Institute for Bio-Resource Research, Kota Watanabe, an assistant professor, and Morio Matsumoto, a professor from the Department of Orthopaedic Surgery, Keio University, have successfully generated heterozygous fibrillin-1 (FBN1) mutant cloned pigs using genome editing and somatic cell cloning techniques and thereby established a porcine model for Marfan syndrome (MFS). Mutations in FBN1 cause MFS, a genetic disorder that affects the body's connective tissue. These pigs will serve as a valuable large animal model in which the pathogenesis of MFS and development of new treatments can be studied. This paper was published in
Scientific Reports
, a British open access journal published by the Nature Publishing Group on April 14th 2016 (10:00 am BST).
Symposium jointly hosted by Meiji University and the Center for iPS Cell Research and Application of Kyoto University (CiRA) - Collaboration between iPS Cells and Medicine, Agriculture, and Engineering: Perspectives on New Medicine -
Given the current pace of research into diseases and their treatment, the day patients suffering from terminal disease can be saved may arrive sooner than imagined. On July 26th, the symposium "iPS Cells and Collaboration between Medicine, Agriculture, Engineering: Potential for New Medicine" took place. Prominent panelists such as Dr. Hiroshi Nagashima from Meiji University and Nobel Prize awardee Dr. Shinya Yamanaka from Kyoto University presented state-of-the-art research and conducted open-talk sessions with the audience. Here is gist of the talks presented on that day.
Project Summary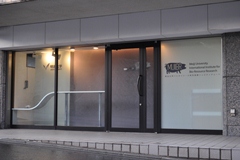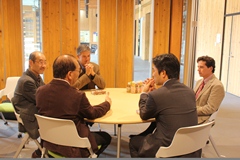 MUIIBR is an international research Institute that is an organic network of domestic and international universities, research institutions and business corporations with Meiji University at its hub. Our purpose is to create, maintain and make use of biological resources based in agricultural science, in particular animal biotechnology, which will contribute to the development of next-generation medical technology.

MUIIBR tackles important issues directly related to human health: developing and verifying new treatment methods for illnesses such as diabetes using pigs as disease models; regenerating or producing organs and tissues through the cloning and genetic engineering of pigs; assessing and analyzing bone and cartilage regeneration processes using genetically modi¬fied pigs carrying fluorescent marker genes; and developing and examining new assisted reproductive technologies (ART). MUIIBR engages in research and development that will make the medicine of the future a reality through translational research using as a platform pigs that have a number of similarities with humans.


Director's Message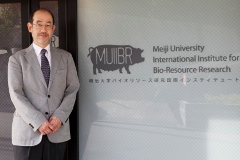 Leading edge medical techniques greatly contribute to the health and welfare of humanity, but there are many challenges yet to be resolved.
Organ transplantation is an effective medical technique to save end-stage organ failure patients, but suffers from the fundamental problem of relying on the availability of organ donors. In contrast, regenerative medicine aims to artificially create the necessary organs and tissues, but it is an extremely difficult challenge against nature to create organs and tissues of complex function and structure by in vitro culture technology. Efforts are underway in the field of regenerative medicine to use pluripotent stem cells such as iPS and ES cells to restore functionally impaired organs and tissue. Needless to say the efficacy and safety of the stem cell therapies must be guaranteed. In addition, assisted reproductive technology, which has advanced remarkably in recent years, is advancing into the areas of the creation of sperm and eggs and genetic manipulation of the embryo, where a keen insight into the mission and nature of scientific technologies is essential.
Against this background, translational research using large animals can be considered essential for the development of leading edge techniques such as organ transplantation, regenerative medicine and assisted reproductive technologies. Translational research is empirical research that bridges the results of basic research to clinical application.
Meiji University International Institute for Bio-Resource Research is advancing translational research relating to leading edge medicine, making full use of cloned pigs and genetically modified pigs that we have developed as unique large experimental animals. It is our aim to contribute to the realization of tomorrow's medicine through translational research using our platform of high value-added pigs.
Dr. Hiroshi Nagashima
Professor at the Laboratory of Developmental Engineering, Department of Life Sciences, School of Agriculture