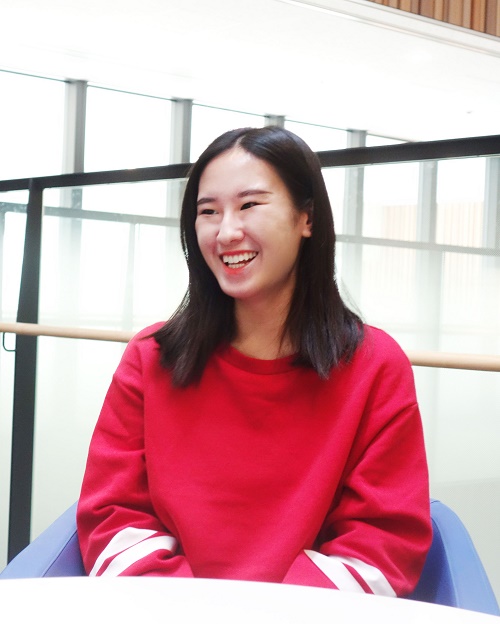 Q. Why did you choose Japan and Meiji University?
I went to three years of high school in Japan but before that, I spent eight years in United States and I wanted to study deep in details about our globalized world so I chose Meiji University, school of Global Japanese Studies as my place of study.
I feel more comfortable using English so I wanted to spend my four years of university life focusing on studying different fields in English.
Q. Tell us about your campus life at Meiji University.

I spend most of my time free time in the lounge in the campus.
At the lougne, I am able to have interaction with exchange students which I enjoy very much.
I also eat lunch, play games, and finish my assignments there.
As for classes, there are various courses offered that are interesting so I always have a difficult time choosing classes for a new semester.
I am able to from not only a Japanese point of view but also from an international perspective.
Other than classes, I enjoy dancing club activity as we have the opportunity to perform in many events and also strolling around Nakano in my free time.
Q. Tell us about your life in Japan.
Since I used to live in America for eight years, I was not able to adjust to the Japanese way very easily.
It is still a bit difficult for me to adapt to the environment, especially when communicating with Japanese students. I try my best to avoid miscommunications.
Other than that I get to compare and contrast the different ways of thinking that they have and it is always a lesson to get ideas from different perspectives.
Ever since I came back to Japan, it has been a good experience and it is always exciting to await for new discoveries.
Q. About Japanese language
I took a Japanese language class

with Japanese track students after testing my language skills before freshman year began.
During spring semester of first year, I took a speech class and in fall semester I took a writing class in Japanese.
Although it was hard for me to keep up along with other Japanese track students, I was able to challenge myself, maintain my Japanese, and learn the basics of academic Japanese speech and writing.

Q. What are your plans for the future?
After I graduate, I plan to stay in Japan and contribute to the globalized society.
I wish to work as a staff at an airport to help people using my communication skills I brushed up with non-Japanese students.
The things I have learned from socializing with international friends and taking courses in the school of global Japanese studies will definitely help me live a stable life in a globalized world.
Life Cycle
0:00-6:30 sleep
6:30-9:00 wake up and preparation
9:00-17:00 classes, studying on free period
17:00-19:00 circle activities
19:00-0:00 leisure time, finishing assignments
Time table in 1st year
Period
Mon
Tue
Wed
Thu
Fri
1st
(Spring)



1st
(Fall)



Introduction to Journalism
Introduction to Study Abroad B
2nd
(Spring)
Chinese (Elementary Level) A



2nd
(Fall)



3rd
(Spring)
Introduction to Global Japanese Studies
Sociology A
Chinese (Elementary Level) A



Japanese Representational Arts A
3rd
(Fall)



Sociology B

ICT Basic I

Asian Studies B
4th
(Spring)

Japanese Linguistics A

Research Paper Writing
Research Paper Writing
Business Administration A
4th
(Fall)
Japanese Expression (Writing)
Speech & Presentation
Speech & Presentation
Globalization and Financial Services B



5th
(Spring)
Tourism Management A
Japanese Expression (Speaking)
5th
(Fall)
Tourism Management B



The breakdown of monthly finances
Income
Expenditure
Allowance: 10000 yen
Part-time job: 30000 yen
Meal and Leisure: 30000 yen
Message for the future students