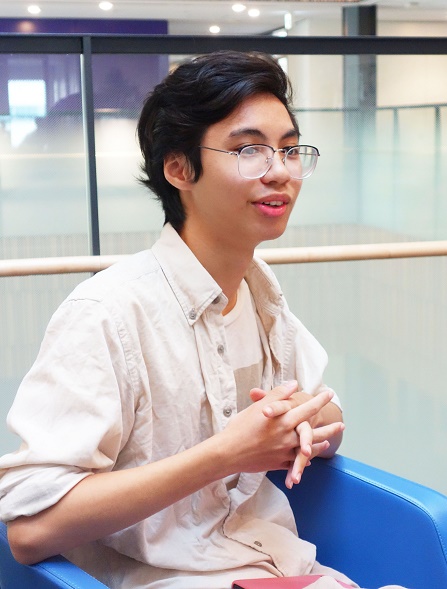 Q. Why did you choose Japan and Meiji University?
I chose to study in Japan because I want to experience college life in Tokyo bilingually both English and Japanese.
I chose Meiji University specifically because the university gave me MEXT scholarship that assisted my life in Tokyo financially.
Furthermore, I found the curriculum of Global Japanese Studies interesting and helpful for studing global politics.
Q. Tell us about your campus life at Meiji University.

My campus life at Meiji has been amazing.
Most of the time of other than class, I spend at the international lounge in the Nakano campus.
Thanks to the lounge, I made a lot of friends from around the world and had the chance to broaden my own horizon of knowledge about cultural differences.
Aside from the international lounge, I spend time at the library, the computer laboratory to work on my personal projects or just hang around at the nearby Nakano park.
Q. Tell us about your life in Japan.
Life in Japan is quite challenging but is definitely a satisfying experience. It is hard to merge in the hustle-bustle life pace of Tokyo but once I fit in with it, I felt pretty content.
Even until this day, Tokyo still amazed me somehow, it is indeed a multifaceted and iridescent city that I feel glad to reside in during my time at university.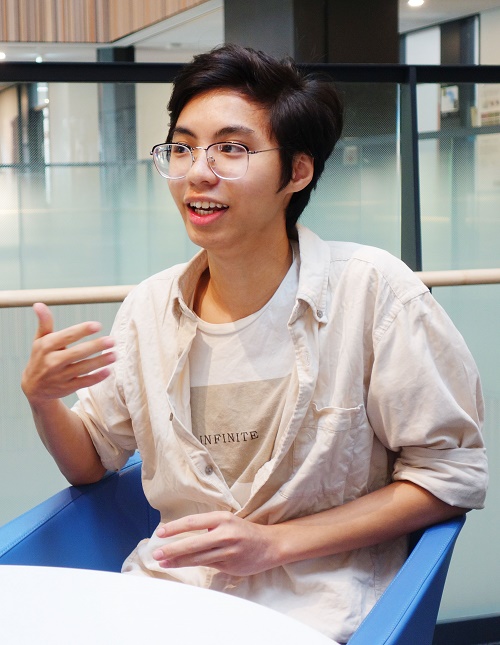 Q. About Japanese language
I started Japanese language courses

from pre-intermediate level when i enrolled this school in Fall semester.
My Japanese level is quite decent, I can understand most of daily Japanese but still struggle with speaking part a bit. Hopefully it will get better.
In 2nd year, I took Upper-intermediate level classes 4 times in a week and JLPT Preparation class for preparing JLPT N2 level.
Q. What are your plans for the future?
I am searching for internship opportunities because I will be third-year student from next semester and enjoy my life in Japan.
Also, I try to travel and take more photos of Japan while I still can.
After graduating, I am planning to have a job at Vietnam for keep study politics at graduate school.
From next year, I will join to "Seminar (Zemi)"

which focoused on contemporary international relations.
Life Cycle
23 : 00 – 6:15: sleep
6:15 – 7:00 wake up and preparation
7:00 – 8:00 walking to school
8:00-9:00: revise my study before classes
9:00-19:00 classes or free time
19:00 – 22:00 study time
22:00-23:00: leisure time
Time table in 2nd year
Period

Mon
Tue
Wed
Thu
Fri
1st
(Spring)



Intermediate Japanese (General)
Political Science A

Japanese Fine Arts from a Global Perspective A

Intermediate Japanese (General)
1st
(Fall)




Upper-intermediate Japanese (General)

Upper-intermediate Japanese (Vocabulary & Kanji)

2nd
(Spring)
Intermediate Japanese (General)
Political Science B
Introduction to Visual Culture A

Intermediate Japanese(Vocabulary & Kanji)

2nd
(Fall)




Upper-intermediate Japanese (General)

Upper-intermediate Japanese (General)

3rd
(Spring)
Comparative Religious Studies
Sociology A
Asia-Pacific Political Economy A

Asian Studies A

3rd
(Fall)



Asia-Pacific Political Economy B
Peace Studies
Intercultural Education B
4th
(Spring)



Research Paper Writing
Research Paper Writing
4th
(Fall)
Japanese Linguistics B
Media Arts B
Latin American Studies B



5th
(Spring)



Japanese Politics A
JLPT Preparation (Intermediate)
5th
(Fall)
Japanese Politics B



The breakdown of monthly finances
(2019.03.29)