First Secretary Johan Hultquist gave a Zoom lecture about work-life balance in the student-led Practicum of Global Japanese Studies A with Associate Professor Akira Kobayashi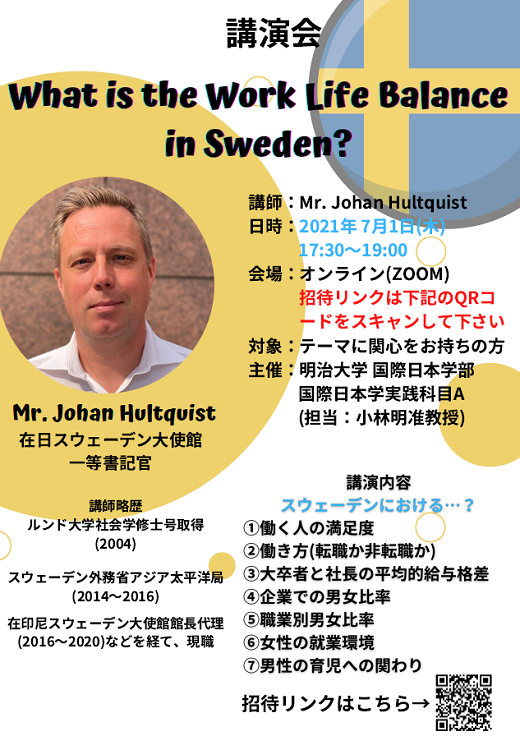 On July 1, First Secretary Johan Hultquist gave a Zoom lecture in the Practicum of Global Japanese Studies A, a course lead by students. There were about 30 participants, including the general public. The English Q&A session was very interactive, even going overtime for a few minutes.
The lecture theme, "What is the Work-Life Balance in Sweden," originated from a discussion over two social issues. One was the critical working environment in Japan during the coronavirus pandemic. Although the government encouraged workers to work from home, the practice has spread slowly except for large companies. The other social issue was about the working environment for women. Although the government enforced the Equal Employment Opportunity Law almost 50 years ago, in 1972, women's working environment and treatment have not improved.
The lecture compared the work-life balance between Japan and Sweden, such as working style, worker satisfaction, the gender ratio in companies, women's working environment, and men's participation in childcare. The students decided on these topics after discussing them with the instructor. Among the world's leading countries, the students chose to focus on Sweden, where the number of Meiji students who wish to study has been increasing. The Swedish Embassy agreed to cooperate with this student-led event and provided a lecturer. The lecturer prepared slides based on the survey ranking results of work-life balance in the OECD (Organization for Economic Co-operation and Development) countries. The slides were in English and Japanese, and the content was easy for students to follow and understand.
The lecturer, First Secretary Johan Hultquist, was recommended by the Embassy. He holds a Master's degree in Sociology from Lund University, a partner university of the School of Global Japanese Studies. He had a strong interest in Japan, taking a Japanese language course during his school years, and visited Japan several times after graduating. After graduating from university, he worked in the financial industry for about ten years and then changed careers and joined the Foreign Ministry of Affairs of Sweden. He has been in his current post since 2020 after working for the Asia Pacific Region Department and acting as the Deputy Director of the Swedish Embassy in Indonesia.
Practicum courses at the School of Global Japanese Studies provide a unique experience for students to plan and carry out their own projects, based on the knowledge they acquired from various courses. We will continue to introduce these student-led projects on our website. You can access the lecture recording from the link below if you could not join the event. We encourage you to listen to the lecture if you are interested in work-life balance or planning to study abroad in Sweden.
2021-07-01 Practicum of Global Japanese Studies A, Lecture by Johan Hultquist