An academic and industry collaboration project in Associate Professor Quek's seminar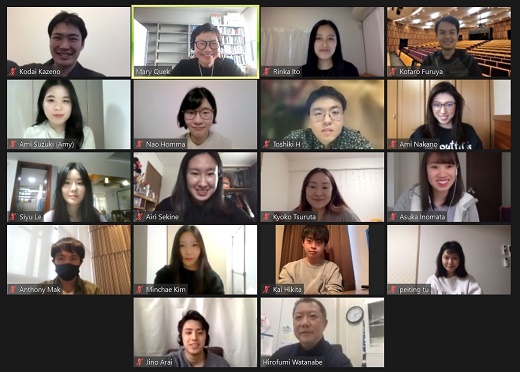 Picture of Zoom meeting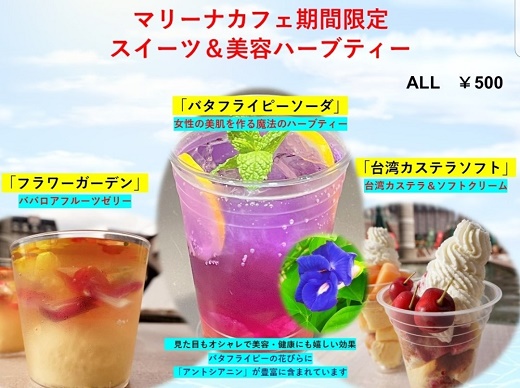 Picture of recommended products adopted by the Café in August 2021.
In the Spring of 2021, 16 Meiji Students from the School of Global Japanese Studies were commissioned to research and recommend a sweet item for Marina Café by Kiroro at Otaru Port Marina, Hokkaido. Marina Café by Kiroro is the brainchild of Mr Hirofumi Watanabe, Hotel General Manager of Kiroro Resort and Mr Akira Kadono, Executive Director of Marine Wage Otaru for the summer of 2021. This project was set up by Professor Mary Quek and Mr Hirofumi Watanabe as collaboration between academia and industry for Professor Quek's seminar group.

This collaboration was a marketing-centric project that required students to research and recommend a trending dessert that is popular in Tokyo. The benefits of this project are threefold. First, students gain first-hand experience with marketing research. They had the opportunity to put marketing concepts into practice, focusing on Segmentation, Target Market and Positioning, and then recommend a specific product targeting the young consumers who live in or visit Otaru. Second, Mr Watanabe who possesses over 30 years of marketing experience and is an enthusiastic manager and educator was there to help hone the students' marketing skills. Third, this project bridged the gap between academic knowledge and industry practice. It provided a platform for students to exercise their creativity, apply academic knowledge and refine their interactive skills with team members and an industry practitioner.

Students were divided into three teams to compete against each other. They are Arai Jino, Furuya Kotaro, Handa Toshiki, Hikita Kai, Homma Nao, Inomata Asuka, Ito Rinka, Kazeno Kodai, Kim Minchae, Le Siyu (Christina), Mak Kwantao (Anthony), Nakano Ami, Sekine Airi, Suzuki Ami (Amy), Tsuruta Kyoko, Tu Peiting. All the students had a good time and did a great job. Three trending ideas were presented; Bavarois, Taiwanese castella and a Butterfly pea flower tea. We are honoured that Mr Watanabe accepted all three ideas and promoted them in the Café in August (picture attached). We are grateful to Mr Watanabe for giving of his personal time to work with us and guide the students.