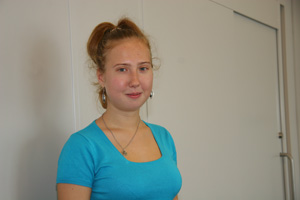 Stupino, Russia
Exchange student from State University of Management, Russia
Q. Why did you choose Japan and Meiji University?
I often watched Japanese anime cartoons on TV when I was a child, and I was interested in Japanese language. However, in Russia, Japanese is minor language to study as a foreign language. I had few chances to study Japanese in Russia, so I decided to come to Japan. Also, Japan is an advanced country in business administration, which is my major, in addition to study of marketing. I had heard that Japanese people study hard, and I wanted to devote myself to study in an enthusiastically motivated environment.
The reason why I chose Meiji University is that it was the only Japanese university I could choose in the exchange program of my university in Russia. Later I realized that there are great professors who teach my major, and I came to really look forward to coming here to study.
Q. Are you satisfied with the support systems that are available?
It has been only a month since I came to Japan. There are a lot of things that I don't know about actual life in Japan and the campus. But the staff at the School of Business Administration office are very kind in their support to me. In Russia, I had been attending a Latin American dance school, and I wanted to continue dance classes in Japan too. When I talked to the staff about that, they let me know about a dance circle at the university, took me to the club room, and arranged for me to be invited as a member of the circle.
Q. Do you have any trouble with the language?
I almost couldn't speak Japanese at all before I came to Japan. I am taking Japanese language class for beginners. I often have trouble because of the difference between the languages in daily life, but in campus life, I have no problem for now because there are a lot of English-taught classes at Meiji University. Every class I am taking, including classes in my major field, is taught in English. However, I aim to take a Japanese-taught class in the next semester as I am here in Japan to study language.
Q. What are your plans for the future?
I hope to work in the field of marketing at a global enterprise. In Russia, marketing is a new field which has become popular over the last 10 years. I think it will be a challenging job. If I have a chance, I'd like to work in foreign countries.
Q. Message to prospective students of Meiji University
Don't be afraid to study abroad, though you may be nervous about the differences between the languages and cultures. And don't concentrate on studying too much. It's also important to try to learn about Japanese culture and get to know Japanese people as much as possible.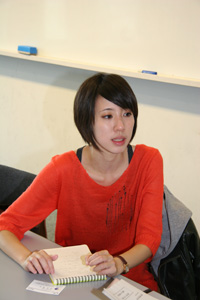 Tainan, Taiwan
Exchange student from National Formosa University in Taiwan
Q. Why did you choose Japan and Meiji University?
I had studied Japanese at a college of language in Taiwan before I entered National Formosa University in Taiwan, where I major in leisure management. The National University has exchange programs with two Japanese universities, one of which is Meiji University. I chose Meiji University because it has departments that are close to my major field, while the other university's departments specialize mainly in science and technology.
Q. What surprised you about life in Japan or on campus?
When I first arrived in Japan, I hadn't got used to my new life and was surprised at many things. For example, I was shocked that you must stand on a specific side of the escalator in subway and other places in the city, that trains are always very crowded, that there are always crowds of people in the city at any time of the day or night, and that you should flush toilet paper down the toilet.
Q. How did you overcome Japanese language difficulties?
The deeper I study, the more difficult I feel that Japanese is. I read Japanese books and watch Japanese TV programs, trying to improve my Japanese ability, especially listening comprehension. Slowly but steadily, I feel my Japanese has improved since I came here.
Q. What are your plans for the future?
I'm thinking about finding a job that involves meeting many people, such as working in a hotel or something like that in the service industry. I'd like to try to work in Japan, if possible.
Q. Message to prospective students of Meiji University
If you are thinking about studying abroad, you should learn the language to some extent before you leave your country. The things that you learn in advance will definitely help you to improve your Japanese skills quickly after you start your life in Japan.